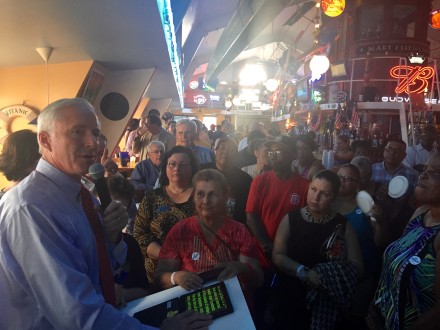 In a jammed, steamy Captain's Cove Seaport Wednesday night, Mayor Bill Finch kicked off his reelection campaign telling more than 500 supporters "I'm proud to stand here before you and say that our city is in the midst of a major comeback!"

Several speakers fronted Finch including City Council President Tom McCarthy, former Mayor John Fabrizi and Democratic Town Chair Mario Testa who's doing a balancing act between Finch and his old friend Joe Ganim with the July 21 endorsement session of the 90-member Democratic Town Committee on the horizon. Prior to Finch's announcement Testa visited Ganim's police substation/satellite campaign operation in the crime-plagued Trumbull Gardens housing project.
"Eight years ago we came together in an effort to build a better Bridgeport," Finch told the crammed crowd on the second floor of the Cove, the overflow taking in the announcement from the sanctuary of the deck on a steamy early evening.
"The great recession was hitting our city hard. High unemployment, home foreclosures, job losses, and rising costs left too many Bridgeport families struggling to make ends meet. But we didn't take it lying down. We dug in and got to work. We made smart investments and tough decisions in order to right the ship. Our hard work has resulted in Bridgeport being stronger today than it's been in many decades."
Finch then listed a series of accomplishments such as the Steel Point redevelopment area of the East Side featuring Bass Pro Shops as the major tenant, Eco-Technology Park, DeJulio Sausage, creating and renovating park land. On the education front Finch cited increasing pre-k access, school construction and renovations and after-school programs.
Then Finch drew a line in the sand.
"I stand before you as a husband and the father of four kids," Finch said. "And I've lived my entire adult life in Bridgeport. But I can honestly say that I have never seen an election that puts our city–and its future–at more of a crossroads than the one we're jumping into.
"In this election, there is a clear choice. We can either continue down the path of strong leadership that is focused on the long run, making smart investments in the future, or, we can go back to the failed policies of greed, crime, corruption, lies and mismanagement."
Finch did not mention Ganim by name but his speech signaled the intense exchanges that will come in the two months leading to a September primary.
"We can either continue making Bridgeport better every day or we can go back to a time when an elected leader stole hundreds of thousands of dollars from taxpayers, cost the city tens of millions more, and spat on the good name of our city, disrespecting each and every hard working Bridgeport."
Ganim is making crime a focal point of this election. Finch has cited lower crime statistics. Opponents Ganim and Mary-Jane Foster will argue that violent crime is higher this year than last year.
Finch said "… we need to be even more vigilant each and every day. We not only owe it to every Bridgeporter, but we owe it to those who have lost their loved ones due to senseless acts of violence."