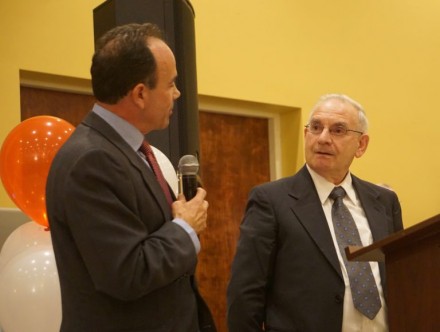 A federal judge on Wednesday ruled that the State Elections Enforcement Commission decision to ban Mayor Joe Ganim from participating in the state's public financing program "doesn't burden or penalize" his first amendment rights because he's still free to seek state office outside of the Citizens Election Program.

Ganim, in an exploratory stage for governor, challenged the declaratory decision by the SEEC stemming from his conviction on federal corruption charges in 2003. The state legislature passed an amendment to the state public financing program in 2013–following campaign finance charges against  former State Senator Ernie Newton–that bans convicted public officials from access to public campaign cash.
Under the program, gubernatorial candidates must raise $250,000 in donations of $100 and less to trigger a public campaign grant of roughly $1.4 million for a primary and $6.5 million for a general election. Ganim may still run for statewide office, but he now must raise money outside of the program the old-fashioned way through big-dollar donations with a maximum personal contribution of $3,500 if he forms a full-blown candidacy for governor. As an exploratory candidate he's limited to a personal maximum contribution of $375.
The Democratic field for governor is wide open with no high-profile names in the race. Ganim has the ability to raise a serviceable amount of campaign cash in a primary, but even if his long-shot candidacy managed to take flight to a primary win, his campaign cash would be zeroed out with the Republican opponent sitting with a cool $6.5 million for the general election. He no doubt would be outspent heavily. Not a narrative to build political support.
The Hartford Courant's Ed Mahony files this report:
A federal judge Wednesday ruled against Bridgeport Mayor Joseph P. Ganim in the mayor's effort to overturn a state law that bars anyone guilty of a public corruption felony from getting public campaign financing.

Ganim, who served nearly seven years in prison on federal corruption charges, filed a lawsuit challenging a decision by the state Elections Enforcement Commission to deny his request for public funding for his Democratic candidacy for governor. Ganim claimed the ban violated his free speech right by putting him at a disadvantage to other candidates who would have a financing advantage of millions of dollars.

The commission ruled against Ganim in April, and Ganim said at the time he was contemplating legal action. This is only the latest chapter in an extraordinary political career that has included electoral success, bitter humiliation and incarceration, and a remarkable return to political prominence.
Full story here.