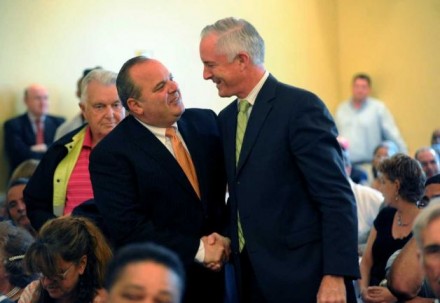 Leave it to former Mayor John Fabrizi to shake things up. Fabs, a Democrat, showed up at a fundraiser for Trumbull's Republican First Selectman Tim Herbst on Thursday issuing a surprise endorsement. It certainly cranked up the GOP crowd. What's Fabs up to? He would love to have his old job back and appealing to a cross section of voters might be in play for him if he's thinking about an independent run in 2015. But more than that he'll need campaign money. Herbst and Mayor Bill Finch aren't exactly the best of buds. Fabs must move beyond the usual suspects who give to the incumbent mayor to raise money.

Trumbull is Bridgeport north. The vast majority of Trumbull residents have a connection to Bridgeport, whether born there, raised there, work there or family there. Fabs has indicated he plans to retire from his position as chief of Adult Education at the end of this school year. That will free him up to raise money and schmooze voters. And Trumbull contacts could be a source of campaign cash. So call this endorsement a crash for cash.
MariAn Gail Brown of the CT Post has more on Fabs' endorsement crash:
What surprised Herbst, the town's incumbent first selectman, and dozens of the party faithful was the appearance of former Bridgeport mayor John Fabrizi, a Democrat. Fabrizi accompanied State Marshal Thomas Foldy, another Bridgeport Democrat, to the GOP fundraiser, which benefited Herbst and the rest of Trumbull's Republican ticket.

"Look, I've got friends and family in Trumbull and friends with businesses there. My wife is even from Trumbull," Fabrizi said Friday. "And from what I've seen, what I've observed and what I hear from my family and friends, Herbst is doing a great job. I know what the job is like running a city–and what it takes to do it well."
Read more here.