When I look at the layoff list of city employees Mayor Bill Finch released on Thursday I see several with a long history of service to the city.
Andrew Abate, who served as chief of the Water Pollution Control Authority for about 20 years, was let go. Funds for the WPCA come from a separate water fee so I'm not sure yet how that impacts the city-side budget. Maybe one of our OIB correspondents will let us know. City Councilman Bob Walsh has been an outspoken critic of WPCA operations through the years so I'm interested in his Abate take.
Deputy Chief Jimmy Honis I've known since I was a cub reporter. He had earned his stripes as one of the city's top vice-squad cops and through the years moved up the Civil Service ranks. Honis' overtime pay was highlighted by Finch in the mayor's recent efforts to reel in the department's overtime loot.
Joseph Minopoli has been a fixture as the housing code enforcement officer for decades.
A.J. Perez, sweetheart of a guy, was another of the veteran police officers let go. He was a close friend of former Mayor Joe Ganim.
If I'm counting correctly it looks like 10 from the police department and 5 parks officers were let go.
Also on the list is Anthony DePrimo, the recycling foreman, who was the subject of dozens of postings from OIB readers regarding a controversy involving overtime pay. He was reinstated to his position just a few weeks ago after a suspended leave for many weeks. DePrimo has bumping rights which means his seniority allows him to move into another city position. Several City Hall insiders I respect tell me that DePrimo is a good worker victimized by personality conflicts within Public Works. I'm sure some OIB posters will disagree.
Bumping rights cannot be said for the 10 members of the police department. The Bridgeport police contract that was negotiated three years ago did not include bumping rights. The question remains whether a Civil Service provision provides bumping protection.
See full layoff list below:
Andrew S. Abate, WPCA project manager, $109,846
Adam Radzimirski, deputy police chief, $97,258
James J. Honis, deputy police chief, $97,258
Roger S. Palmer, deputy tax assessor, $89,097
Joseph Minopoli, housing code enforcement officer, $86,221
William L. Chapman, police captain, $84,572
Robert R. Craw Jr., police captain, $84,572
Paul R. Simeone, technology project specialist manager, $83,533
Armando J. Perez, police lieutenant, $73,539
Michael J. Beitman, technology project specialist, $67,105
Donna L. Reisinger, civil service personal assistant II, $64,913
Joseph D. Sherbo, police sergeant, $63,948
Carl J. Leonzi, police sergeant, $63,948
Donald P. Jacques, police sergeant, $63,948
James C. Pianello, police sergeant, $63,948
Raymond J. Masek, police sergeant, $63,948
Joseph Wincze Jr., fair housing director, $63,620
Gregory Osipow, construction management accountant, $60,750
Anthony DePrimo, recycling foreman, $58,303
Not named, construction management administrative assistant, $47,545
Michael Bouchard, park police officer, $41,927
Jay J. Silva, park police officer, $41,927
Alan J. Stach, park police officer, $41,927
Mark E. Simonetti, park police officer, $41,927
Robert P. duPont, park police officer, $41,927
Frances Wilson, city clerk office mini computer operator, $39,058
Jose D. Morales III, voting machine mechanic, $36,400
Ralph E. Bowen, voting machine mechanic, $36,400
Not named, town clerk's office typist II, $35,959
Jennifer Gondola, technology administrative planner, $34,385
Emily Zahorsky, print shop clerical assistant, $14,560
The Debate
I must confess. I missed the debate. Mo and I went to see Alanis Morissette at Radio City Music Hall. Great show. Sounds like Barack and McCain put on a pretty good show as well. I've caught a few bites today on the tube. So, what do OIB posters have to say about the debate?
Paul Newman
Uncle Paulie is one of my favorite actors. For Bridgeport folks he's remembered for the armpit-of-New England line. Newman directed The Effect of Gamma Rays on Man-in-the-Moon Marigolds in Bridgeport. In 1973 he told Cosmopolitan magazine that "It's a terribly depressing little town–the mayor calls it the armpit of New England."
Mayor Nick Panuzio, of course, never said that. He had this response to Newman: "I don't have Mr. Newman's intimate knowledge of that part of the human body."
Despite the crack about the city, Newman gave generously to many Bridgeport causes.
Slammin' Party
We had quite the eclectic group at Captain's Cove Thursday night and have blackmail photos to prove it. Auden Grogins, the blonde banshee from Black Rock who knocked off State Rep. Bob Keeley in the August primary, lit up the room. Republican State Senator Rob Russo yucked it up with his Democratic opponent Anthony Musto. Republican State Senate candidate Milton Johnson, one of Bridgeport's finest (glad you weren't on the list Milton), also joined us. Milton is challenging Democratic State Senator Ed Gomes.
Bob "The Troll" Walsh stopped in to keep us all honest. Mojo Man Ralph Mojica, Hector Diaz, Sly Salcedo, Ace Man Timothy Holleran, George Estrada and his wife Rita, and the grande web designer Sue Katz all joined us. Legendary OIB friend Local Eyes was sharing the latest rumors. (We love rumors at OIB.) And, of course, Joel "Speedy" Gonzalez showed up with his nine fingers.
We were joined by dozens of others. Thank you, everyone.
Blackmail photos are a beautiful thing, and we have a few from the OIB party at Captain's Cove the other night.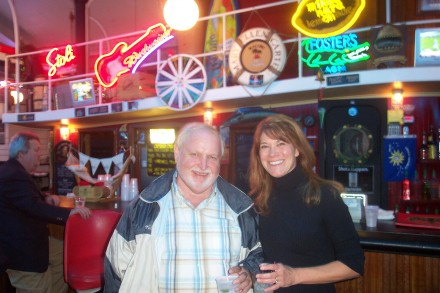 Hey, Troll, get your hands off my wife! City Councilman Bob Walsh and my wife Mo. The guy at the bar to the left is Yahooy. No, it's actually Timothy "Ace" Holleran.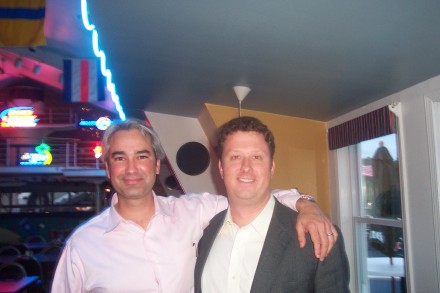 Somebody call the civility police. Democratic State Senate candidate Anthony Musto and Republican State Senator Rob Russo share a poignant moment. I forgot to bring the boxing gloves.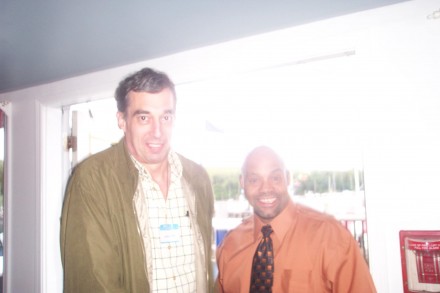 The legendary "Local Eyes" and the near-legendary Joel "Speedy" Gonzalez.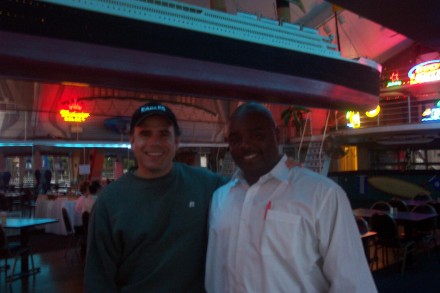 Poor Milton Johnson, Republican candidate for state senate. This photo with me will probably cost him the election.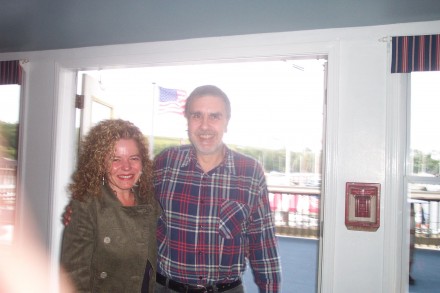 The glamorous Sue Katz, the creative genius that designed OIB, conspires with my venerable webmaster Ray Fusci.