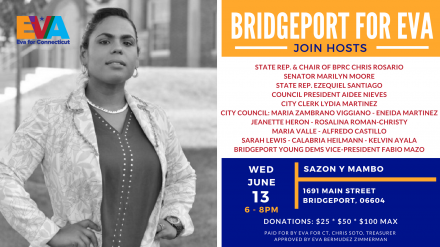 Labor organizer Eva Bermudez Zimmerman is shaking up Connecticut's political landscape challenging Democratic-endorsed Susan Bysiewicz in an August primary for lieutenant governor. She has significant political support in urban areas and with progressives who know how to churn out a primary vote.

Zimmerman, 30 years old, was a late entry into the race buoyed by activists who felt spurned by Ned Lamont selecting Bysiewicz, the former Connecticut secretary of the state, as his gubernatorial running partner. In Connecticut, however, candidates for governor and lieutenant governor run on their own in a primary. Zimmerman supporters see the Latina as a revolutionary candidate who would bring diversity to a Democratic ticket in the general election.
Zimmerman is trying to qualify for Connecticut's Citizens Election Program of publicly funded races. On Wednesday Bridgeport supporters are hosting a fundraiser for her at Sazon Y Mambo, 1691 Main Street.
Who's Zimmerman? See Hartford Courant story here.
Additional background from campaign website:
With her professional experience working on stimulus package legislation in Congress, performing labor negotiations as an SEIU Child Care Director, and as a former Newtown Legislative Council member, Eva is committed to improving and fighting for our communities.

Eva was awarded Latina Citizen of the year by the Connecticut General Assembly for her outstanding activism navigating 7000 Connecticut residents to health insurance through the Access Health Market place. She held enrollment fairs throughout the state during her weekends off to try to connect as many people possible with the opportunity to get covered on affordable health care plans.

She first got involved with direct grassroots organizing by canvassing in with CONNPIRG Connecticut Public Interest Research Group organizing for environmental awareness. Those opportunities now 13 years ago fueled her desire to help be part of changing her community rather than the sidelines. She's volunteered for community groups like CSS/CON one of the regional zoning groups in Hartford serving as Treasurer, Connecticut Center for a New Economy and Connecticut Citizen's Action Group, Danbury Rising to name a few.

Eva currently represents and organizes for SEIU, ensuring that people have access to retirement plans, decent salaries and health insurance benefits.