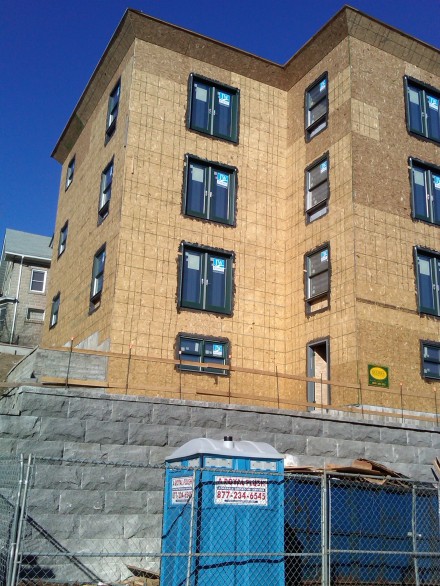 Who says there's no activity Downtown? In a quest to harass city employees Monday afternoon on Lyon Terrace, there were no spots in the City Hall parking lot. No meters available on Golden Hill, nothing on Congress Street. Parked on Elm Street, fed the meter, climbed the Broad Street steps, made the rounds, checked in with some of the usual suspects, then snapped this photo (okay okay, not the greatest photographer on the planet) of the latest phase of Phil Kuchma's Downtown development.

Kuchma, developer of the cool Bijou Square on Fairfield Avenue, is advancing additional Downtown housing, a new senior center for the city, potential new restaurants and a commercial and fitness center on Golden Hill near the Broad Street steps.
Soldiered back to the car on Elm Street, hopefully to avoid that white parking ticket thing under the wiper. No wait, that dreaded ticket was there in all its glory, fleecing $35 from my pocket. Didn't waste any time. Bolted straight to the Police Department, parked on the free Congress Street overpass with no meters, skipped into the PD and legally greased the cop on the other side of the glass with $35 cash. He provided a receipt and said thank you for your business.
Argh! All In a day's work. Mayor Bill Finch needs the budget revenue.