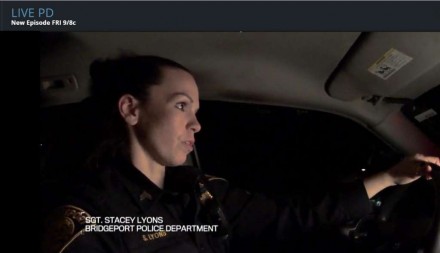 Politics in real time, law enforcement in real time. It drives filmmaker Don Sikorski to catch those action moments in time. Ya never know what can happen. Last summer Sikorski and his film crew shadowed Joe Ganim for what he hoped would be a historic mayoral comeback. It happened and was chronicled in City Wars. A few days ago for Sikorski, as executive producer of A&E's inaugural Live PD show, collateral damage occurred in the scope of Bridgeport Sergeant Stacey Lyons who was featured on national television arresting a man for allegedly choking his wife. Just a short time later she, herself, was arrested for an alleged domestic assault in Trumbull.

Good people have bad moments and to those who know Lyons she's a dedicated cop who did not take her own advice hours later. Policework in the state's largest city is no walk in the park as noted in the real-time show. At the 44 minute mark of the video (see here), Lyons is in action responding to a domestic violence call.
"Domestics are the most dangerous calls a police officer can go on," she says on film, responding to a domestic violence called in by a child who said a father is choking a mother. In the video Lyons shows professional humanity to the man arrested for domestic violence trying to cull additional information. "It's a domestic law," she adds. "We don't have a choice … really dude … we're really going down this route? … and now you have to start thinking with your head."
Did she take her own advice?
Bridgeport Police Chief AJ Perez has placed Lyons on administrative status as a result of her arrest.
"This is really sad because she is a conscientious officer, a very good officer," Perez told the Connecticut Post. "But you have to be able to control your actions. Anytime you get into a problem with someone you are involved in a relationship with, you should just leave."
More from Dan Tepfer, CT Post:
During the arraignment hearing Monday morning, Lyons showed no emotion as she faced state Superior Court Judge William Holden.

The judge ordered Lyons to have no further contact with her former boyfriend and continued the case to Nov. 16 …

Trumbull police said they received a call about an assault at a Petticoat Lane home in the early morning hours.

Police said the male owner of the home told officers his former girlfriend, Lyons, had entered his home uninvited by using the security code, and then angrily confronted him about having another woman there.

The man said he and Lyons got into a shoving match, and Lyons left when he called police.

Police said the man had a minor abrasion on his right forearm and another on his upper nose. He declined medical treatment and refused to make a written complaint against Lyons, police said.