Asserting if you dump on Bridgeport you'll be arrested, Mayor Joe Ganim citing the aid of neighborhood cameras announced on Thursday the city's efforts in the war on blight including the arrest of a man unloading nearly 50 tires on the side of a road in the East End and another caught dumping a Jacuzzi nearby.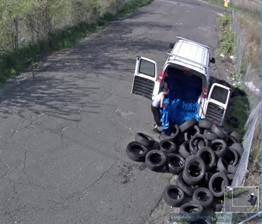 In a coordinated effort between the Department of Public Facilities and the Police Department six individuals were arrested recently. In four instances vehicles were seized, allowed by law in the course of criminal activity.
"We are letting people know that violators of illegal dumping will get caught and pay the consequences," says Ganim. "People of Bridgeport and our neighborhoods are entitled to a clean place to live."
"We are not going to tolerant this! This is my district and it is unacceptable," says City Councilwoman Eneida Martinez who represents the East End 139th District. "I am glad of the initiatives the mayor has in placed to prevent and eliminate blight. Blighting our community is absolute disrespect."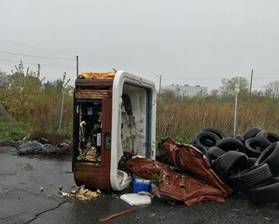 Violators disposing of garbage and other material are subject to a $200 fine pursuant to city ordinance and can be charged with a misdemeanor.
Ganim also noted that the city offers a $200 reward for anyone who contributes evidence that leads to an arrest for illegal dumping.
The City has several community-wide anti-blight initiatives including the removal of dilapidated buildings around the city to make way for future developments. Another program 'Park City Pickin' it Up' enlists community volunteers to clean various neighborhoods.
Ganim also plans to unveil the Adopt a Trash Can program, the Mayor's Sidewalk PILOT Program and a lighting initiative to improve visibility and encourage safety.
Information about illegal dumping  should be reported at 203-576-8023 or 203-576-7976 and evidence can come in many forms, including a picture taken on a mobile phone and sent via text message.