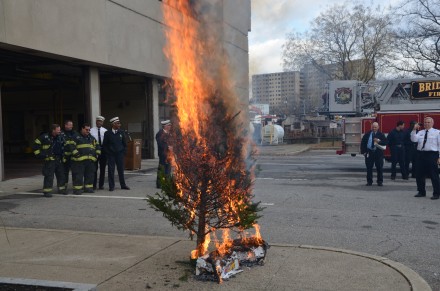 Mayor Bill Finch and public safety officials on Wednesday conducted a news conference at Fire Headquarters to highlight safety tips, even simulating the hazards of a Christmas tree fire.

"That's why we're here today to showcase holiday safety tips that are intended to help protect kids and families," said Finch. "We're here covering everything from having a designated driver to using some common sense tips to help make this holiday season another one to remember–in a good way."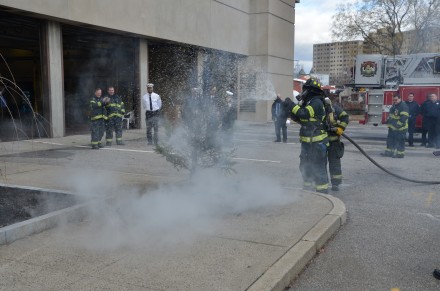 Click here for photos from the event: bit.ly/13yPeaj.
Police Chief Joe Gaudett offered the following tips:
Ø Keep items out of sight in your vehicle. Last-minute shoppers and people returning items after the holidays shouldn't leave gifts or any items in plain view inside their vehicles. It only takes a few moments for a thief to break a window and make off with your possessions.
Ø However tempting, know the risks associated with warming up your car on cold days. A warm car is great–unless it isn't there when you come outside. The exhaust fumes on a cold day are an open invitation for thieves, whether outside your house or outside a convenience store.
Ø It goes without saying, but we want people to ring in the New Year safely. Have a designated driver and DO NOT ring in the 2014 by firing your gun into the air. If you do, you could ring in the New Year in jail.
Fire Chief Brian Rooney offered these additional tips:
Ø Every year, check all holiday lights for broken insulation or frayed wires. It is a good idea to replace any lights after five years regardless of their condition. Electrical lighting is a cause of most Christmas tree fires.
Ø Don't overload electrical outlets and don't run extension cords under rugs, across doorways or near heaters.
Ø When using candles, use a tip-proof candle holder and always blow out candles when you leave the room. Unattended candles are the leading cause of candle fires.
Ø Make sure your Christmas tree is fresh and water it every day. If a tree dries out, it is a tremendous fire hazard.
Ø Fireplaces should always be used with a screen to catch sparks and embers from coming into the room. Dispose of ashes in a covered metal container and store it ten feet away from your home. Ashes can maintain enough heat to ignite combustible items for several days.
Ø Always check your smoke and carbon monoxide detectors regularly to ensure they are working properly. If you don't have one, call the Bridgeport Fire Department at 203-335-8835, and we will install one for free.