Just before the deadline, Republican MaryAnn McLaine filed the paperwork with the Connecticut Secretary of the State's Office to run as a write-in candidate for mayor. So what? Her value is all in the initials MM, just like Marilyn Moore, another write-in candidate for mayor who has no November 5 ballot spot.
Moore lost a close September 10 Democratic primary to incumbent Joe Ganim. She has been educating voters in social media about the two-step process of voting for a write-in candidate.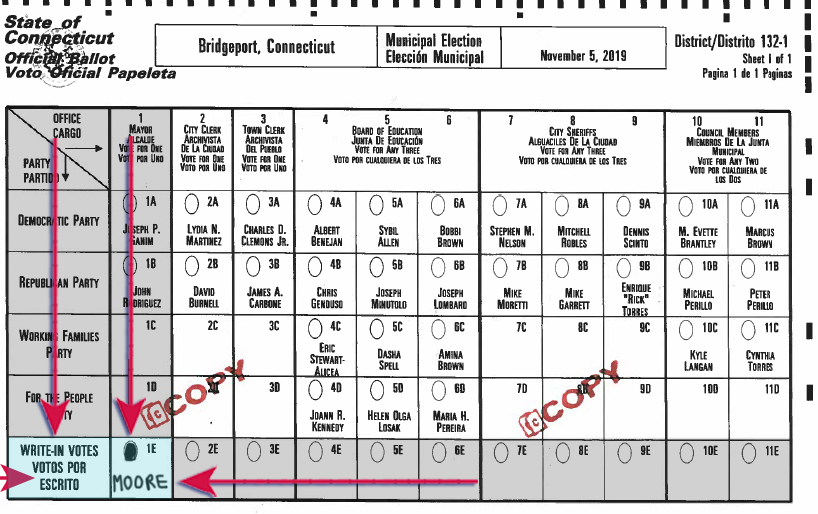 From Moore's Facebook page:
Writing in MOORE for Mayor is easy!

1. Go to the BOTTOM LINE on your ballot where it says "WRITE-IN VOTES"
2. FILL IN THE FIRST BUBBLE next to 1E
3. WRITE MOORE in the box.
Weeks ago, Ted Bromley, an attorney with the Office of the Connecticut Secretary of the State, explained how the write-in process works during a forum at the Bridgeport Public Library. He told the group that MM would suffice as a vote for Moore because it satisfies the intent of the voter. But what if you have two write-in candidates with the initials MM? The intent would be complicated.
McLaine is the wife of Joe McLaine, a former city sheriff who has occasionally posted in the OIB comments section flogging the leadership of local GOP Chair Mike Garrett.
Garrett says this has the fingerprints of Democratic Town Chair Mario Testa all over it. He calls couple McLaine Republicans in name only.
According to a spokesperson for the Secretary of the State's Office, at the bottom of the November 5 ballot a row will appear for write-in candidates. Electors must fill in the circle for write-in, then write a name on the ballot. The optical scanner voting machines are coded so that write-in ballots filled out are separated from the rest of the ballots and then hand-counted by elections officials.
"In a write-in candidacy, the tabulator automatically sorts ballots that have the write-in bubble filled in into a special container so that the write-in votes can be hand-counted at the end of Election Day," says Gabe Rosenberg, Communications Director for the state agency. "All ballots where the voter's intent to vote for a registered write-in candidate is clear should be counted."
That's the rub. MM will now, it appears, be a disqualified vote.
Meanwhile, as Moore prepares for her write-in campaign, her political operatives hope Judge Barry Stevens orders a new Democratic primary. Stevens Wednesday afternoon will hear oral arguments in the lawsuit brought by Moore supporters.