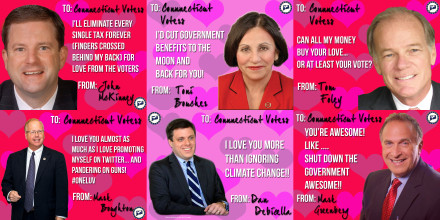 The Connecticut Democratic Party today issued a Valentine's blast to various Republicans for public office. Hmmm, nothing like political lovers.

"For the past six months, we've heard nothing but doom and gloom rhetoric and pandering to the NRA and the Tea Party from Republicans," said Connecticut Democratic Party Chairwoman Nancy DiNardo. "Republicans have repeatedly shown that they would prefer to focus on negative rhetoric, make unattainable promises, and ignore the significant progress Connecticut has made under Democratic leadership. No matter what office they're running for, these Republican candidates have not offered any tangible plans and have only put forth unspecific, absurd promises that would take Connecticut backwards."
Don't ya just love pandering with pandering? All in the name of political love.