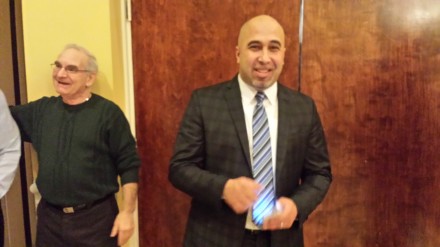 UPDATES: In an Only In Bridgeport moment, Ed Farrow, the chair of the Democratic convention to endorse a candidate for the February 24 special election for State Senate, broke a tie on behalf of his client City Councilman Richard DeJesus, creating havoc Thursday night following the nomination and cries of conflict of interest from supporters of Ed Gomes at Testo's Restaurant.

Following a second consecutive 26-26 vote among delegates, Farrow, an attorney serving as the moderator broke the tie throwing the nomination to DeJesus. Delegates asked Farrow to break the tie fearing a marathon round of voting. Farrow is also a member of the city Police Commission appointed by the mayor.
After the vote OIB and CT Post reporter Brian Lockhart asked Farrow about his relationship with DeJesus to break the tie on his behalf. Farrow said he's a private attorney who has done real estate closings on behalf of DeJesus.
Farrow balked when asked if he should have recused himself over a conflict of interest. He acknowledged DeJesus is a paying client, then bristled when pressed about the relationship. "I'm not talking about this anymore."
Democratic Town Chair Mario Testa said "This appears to be a conflict." Testa added that Farrow as moderator should have recused himself and another chair would have been assigned.
Former City Council President Lisa Parziale, a Gomes supporter, after the vote got in Farrell's face. "You're a disgrace! You should have disqualified yourself."
Other Gomes supporters chimed in arguing the nominating convention was rigged for Farrow to break the tie on behalf of his client.
Because the 23rd Senatorial is a multi-town district that includes Stratford, Bridgeport Town Chair Testa did not serve as the chair for the convention. The Democratic State Central Committee has jurisdiction in these matters and assigned Farrow to serve as acting chair of the meeting.
The delegates then voted for Farrow to serve as permanent chair of the meeting.
The endorsement for DeJesus is key because it provides him a measurable fundraising advantage to qualify for public financing over opponents. He has the backing of Mayor Bill Finch's political operation.
East End District Leader Ralph Ford, a Gomes supporter, shook his head after the vote. He said he has been friends with Farrow for years, and nominated Farrow to serve as chair, but Farrow had not previously disclosed that he represents DeJesus.
Gomes would have to file a written complaint with the State Central Committee to challenge the results but with the election six weeks away it provides a tight timeline to make a difference.
After the meeting Gomes, a former State Senator said, "Now I know why you call it only in Bridgeport."
The 26-26 vote ran largely along ethnic and racial lines with Latinos voting for DeJesus and African Americans for Gomes.
Connecticut's 23rd Senate District covers about two-thirds of Bridgeport and a portion of western Stratford. The special election was called after Andres Ayala was appointed commissioner of the Department of Motor Vehicles.
Barring intervention, DeJesus will appear on the ballot as the Democratic candidate. Gomes will appear because he won the endorsement of the Connecticut Working Families Party. Had he been endorsed by the Dems he'd have placed on two lines. Challengers may petition onto the ballot by securing 103 certified signatures from registered voters in the district. The deadline to submit signatures is 4 p.m. Friday.