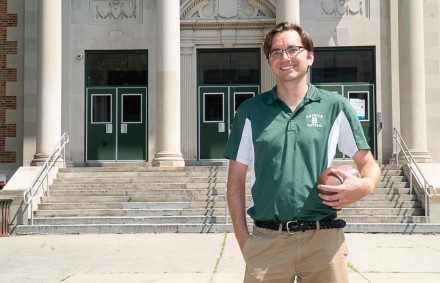 Declaring "lawmakers are notoriously bad at regulating their own behavior when it comes to conflicts of interest and ethics," Republican candidate for State Senate Rich Deecken, a Bassick High School teacher, maintains ballot initiatives in Connecticut would provide checks on special interests and government monopolies. Deecken is challenging Democratic incumbent Marilyn Moore in the city-suburban 22nd District.

From Deecken:
Ballot initiatives and referendums can provide an additional voice for people when it comes to drafting and enacting legislation. Many states provide for direct or indirect forms of ballot initiatives while Connecticut's constitution does not allow petitions and ballot initiatives created by citizens. While I'm skeptical of direct ballot initiatives that are prevalent in most western states, I do think Connecticut could benefit from an indirect ballot initiative process similar to Massachusetts Article 48.

Ballot initiatives are proposed laws placed on the ballot on behalf of citizens. Referendums are laws that require a majority vote before implementation. Both of these legislative tools provide a path for citizens to enact changes and can provide another check on state government. In particular, I see value in citizen petitions that can compel action on the part of the legislature when lawmakers are reluctant to regulate their own behavior.

We live in era where special interests have become an integral part of current law making process. Ballot initiatives and referendums can provide a check on special interest. If Connecticut had a ballot initiative, it would be difficult to maintain the current Foxwoods and Mohegan Sun gaming monopoly. Massachusetts cities and towns were able to make decisions regarding gaming and legal cannabis dispensaries via the referendum process. If ballot initiatives can work in Massachusetts, why not try them in Connecticut?

Ballot initiatives can break an impasse. We need only look to the 2017 state budget stalemate where for over 3 months into the next fiscal year, we operated without an adopted state budget. While a budget ultimately passed, the possibility or threat of a ballot initiative or referendum can be enough to prevent further stalemates and brinksmanship from occurring.

Lastly, lawmakers are notoriously bad at regulating their own behavior when it comes to conflicts of interest and ethics. When good government advocates have the power to initiate legislation, lawmakers are forced to engage in the process to make reforms. Remember the Jack Hennessy conflict of interest bill that was torpedoed by Sen. Cathy Osten; the same Cathy Osten who guaranteed the Bridgeport competitive casino bill would never pass the Senate. Sen. Osten of Southeastern Connecticut, with the help of Sen. Tim Larson of East Hartford, wrecked Bridgeport's opportunity to compete in the casino gaming market. The petition process, as opposed to legislators, can provide the needed push to update laws when lawmakers are reluctant to do so.

Massachusetts has provided a good model in restrained ballot initiatives and referendum. Be it education, tax policy, cannabis or casino gaming, Massachusetts has shown itself to be a leader in the region. It is time for Connecticut to consider adopting some of the Bay State policies to become more competitive.