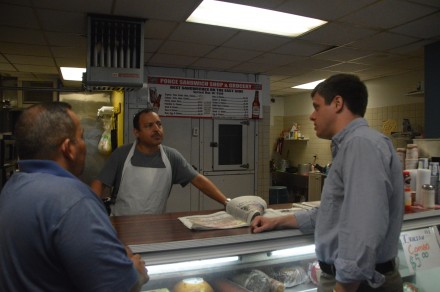 Four years ago Bridgeport native Dan Debicella ran a competitive race against Democratic Congressman Jim Himes winning 47 percent of the vote in Connecticut's 4th Congressional District two days after Barack Obama filled the Webster Bank Arena to juice city turnout. The Republican nominee received just 3447 votes in the state's largest city to Himes' 17,644. Fundamentally, the Debicella campaign largely ignored Bridgeport except for Republican bastion Black Rock. So far Debicella is showing a renewed outlook about campaigning in a city in which he has a strong story to tell.

Republican political operatives make the mistake of giving up on urban voters, including the 5,000 unaffiliated electors in Bridgeport who will likely vote in November. In campaigns, winning is relative. Debicella received just 16 percent of the vote in Bridgeport. Is 25 percent doable, maybe a few points higher? Yes. Debicella was born in the city, his dad was a city police officer. He can talk to city voters on a level they understand whether nostalgically or what he will do for them in Congress. Want urban voters? Discuss specific Bridgeport issues: development, job creation, job training, taxes, urban renewal, small business grants and loan opportunities.
Debicella has visited Bridgeport businesses including stops at Latino-owned Lafayette Hair Styling Shop, Isaac's Tires, Ponce's Sandwich Shop, and El Coquito, listening to the remarks and views of concerned citizens and business owners, according to his campaign.
"My wife Alex and I have been fortunate enough to live the American Dream," says Debicella. "Her family came to America from Argentina in search of more opportunity, and through hard work achieved that dream. It is important that we protect the American Dream for the next generation."
According to Debicella, business owners expressed concerns about high taxes, costly regulations and transportation issues that cause them significant strain, adding they are uncertain about investing more money in their businesses because they are not sure what the future will bring.
"Small business is the backbone of our community and Washington simply isn't doing enough to help them thrive," Debicella says. "Our major focus should be creating jobs and providing an environment where individuals and businesses can thrive, and we can only do that if the bureaucrats in Washington get out of the way."
"It helps hearing from people and business owners in our community," adds Debicella, "my first priority as Congressman will be to represent the needs of all of our citizens here in the district."
Many urban voters feel fatigued and disengaged from their elected representatives. It creates challenges for Democrats to inspire voters to the polls and opportunities for Republicans to provide an alternative to cut into Democratic numbers for a relative win. The mood of the city and general mood of the 4th Congressional District sets up another potential close contest between Himes and Debicella.