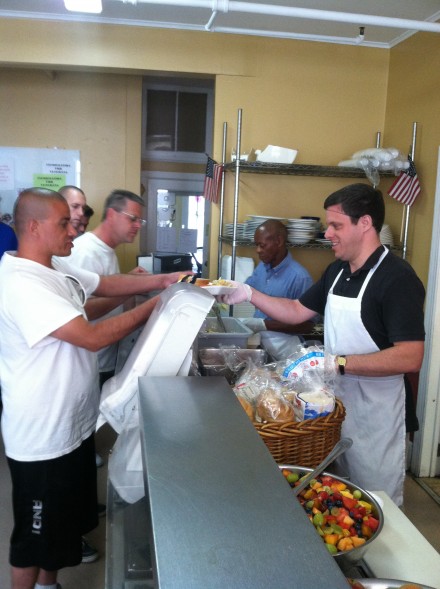 The campaign season begins in earnest next week right after Labor Day weekend, but that's not stopping Democratic incumbent Congressman Jim Himes from stepping up his Bridgeport appearances, nor his Republican opponent Dan Debicella who was born in Bridgeport. In recent days Himes visited Pleasure Beach, now open for public access thanks to federal dough Himes secured for water taxi service. Debicella visited the Bridgeport Rescue Mission to bring attention to homelessness. News releases follow starting with Debicella.

Bridgeport native, businessman and candidate for Congress Dan Debicella spent time this week serving lunch and visiting with residents at the Bridgeport Rescue Mission.

"Homelessness is a real problem with our cities, and all too often government has failed to solve this humanitarian crisis," said Debicella. "The Bridgeport Rescue Mission gets 100% of its funds from individuals, churches, and community partners–and is helping people when they are most in need."

Debicella added that government leaders need to do everything they can to promote and support innovative solutions for homelessness. "The Bridgeport Rescue Mission's services range from serving meals to those in need to year-long recovery programs to get people back on their feet. As Congressman, I will continue to support these services as I have as a private citizen."

Bridgeport Rescue Mission operates at four campuses, providing an array of services to thousands of men, women and children, including:

· Breakfast, lunch and dinner for mission students, guest and members of the community.

· Emergency shelter for homeless and displaced of the community.

· Long-term recovery program for men and women. The Mission's long-term recovery program successfully placed 100% of its residents last year in employment.

"Bridgeport has double digit unemployment and we need more organizations like the Bridgeport Rescue Mission that fight every day to help those most in need. We need jobs in our cities, but we also need a vibrant social safety net for those who fall on hard times."

Debicella urged readers to visit a href="http://bridgeportrescuemission.org/" target="_blank">bridgeportrescuemission.org/ to learn more and donate to fight homelessness.
News release from Himes:
Congressman Jim Himes (CT-4) and a group of local leaders on Sunday visited newly reopened Pleasure Beach to highlight the restoration of the 71-acre peninsula that had been inaccessible to the public for almost 20 years. Access to the peninsula was cut off in 1996 when a fire destroyed the bridge that connected it to the mainland. More than 17,000 people have visited Pleasure Beach since it reopened to the public on June 28.

"After being closed for almost two decades, it is wonderful to see so many people coming out to Pleasure Beach to enjoy one of Long Island Sound's natural jewels. The reopening of Pleasure Beach creates a host of economic and recreational opportunities for Bridgeport's community that simply were not possible during the years the beach was inaccessible," Himes said. "The water taxis and the new facilities are investments that will attract more people to Bridgeport and allow the city's residents to once again have easy access to this beautiful, historic beach."

Himes secured $1.9 million in federal funding in 2009 to establish the water taxi service that ferries visitors from the Fishing Pier on Seaview Avenue to Pleasure Beach. He worked closely with Bridgeport Mayor Bill Finch and other local and state officials to reopen the beach and make it accessible to the public.

On Sunday, Himes took a ride on one of two free water taxis to Pleasure Beach to tour the new facilities and improvements on the peninsula. He was joined by State Rep. Charles "Don" Clemons, Bridgeport Councilman James Holloway, and Bridgeport Councilwoman Eneida Martinez-Walker.

Pleasure Beach is now open daily from 10:00 a.m. to 6:00 p.m. via two water taxis, the 23-passenger Lewis H. Latimer and the 18-passenger Gustave Whitehead. The taxi ride takes just a few minutes. Pleasure Beach's renovations and new facilities include boardwalks, paved paths, a concession stand and restrooms.