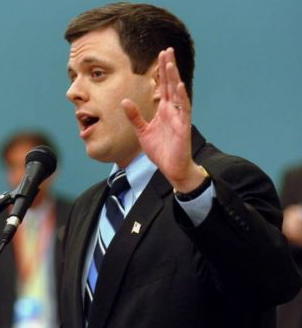 Two weeks left. Connecticut races are gripping political media junkies across the country: McMahon versus Blumenthal, Foley versus Malloy, Debicella versus Himes. All appear to be single-digit races.
Congressman Jim Himes potentially received a mojo boost last week when he learned his efforts to woo Transportation Secretary Ray Lahood on a Bridgeport bucks bonanza paid off. Lahood freed $11 million for the redevelopment of SteelPointe Harbor, now 30 years in the making. Yes, Republican Mayor Lenny Paoletta in the early 1980s identified the 50-plus acres as a redevelopment area.
Himes, a freshman lawmaker, is locked in a tight fight with Republican Dan Debicella. Interestingly Debicella has a story to tell about his connection to Bridgeport but he's not taking advantage. Debicella was born in Bridgeport, his dad was a city cop.

Well-funded Republican candidates make the mistake of writing off Bridgeport voters when they can increase performance, especially in this cranky economic environment. Bridgeport has 20,000 unaffiliated voters and several neighborhoods of economically conservative electors: paging Black Rock, Central, Blackham, Winthrop and Hooker voting precincts. These areas are prime for GOP candidates in this environment, especially in what appears to be a low-turnout general election. Republican Rob Russo won the Winthrop and Hooker precincts against Democrat Tom Mulligan in a low turnout State Senate special election in March 2008. Russo got croaked by Democrat Anthony Musto eight months later in a general election, victimized by Barack's 50-year electoral storm that produced thousands of new voters in Bridgeport that aided Himes' victory over Chris Shays.
Two years later is a much different story. But I see no organized evidence of Debicella working those swing Bridgeport voters. If I'm Debicella, I'd be running a targeted Bridgeport campaign with mail pieces and phone calls connecting with city voters: "I was born here, my dad was a police officer here, I'll not forget what the city has meant to me and my family. Hardworking families in Bridgeport lose out because the federal government spends money in all the wrong areas. We need sanity back in Washington."
It's a message that will play with some voters.
Debicella's raised plenty of dough to make his case throughout the district including the city that put food on the table for his family. Myopic Republican campaign handlers who don't understand Bridgeport make the mistake of writing it off. Oh, we're not going to win Bridgeport, why bother. And some of them will say oh we can't pay attention to Bridgeport, will that piss off the suburbs? Horseshit.
For Debicella, winning in Bridgeport isn't about getting more votes than the opponent, it's about staying as close as possible. Jim Himes isn't going to win the suburban vote in Connecticut's 4th Congressional District. He's trying to stay close while running up urban numbers.
If Debicella fails to defeat Himes it could be because he left city votes on the table.