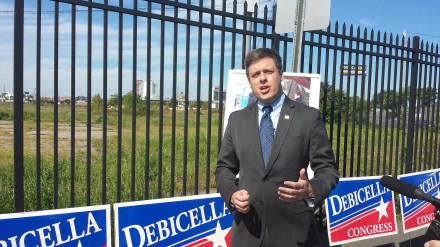 Declaring an urban enterprise zone with a lifetime of tax-free incentives is the way to stimulate Bridgeport's economy, Republican candidate for Congress Dan Debicella on Monday chided Democratic incumbent Jim Himes for supporting a $3 million government assistance package for the now-closed luxury yacht builder Derecktor Shipyards in the city's East End, claiming Himes "wasted taxpayer money on special interest friends, destroyed jobs in Bridgeport, and attempted to cover it up."

Debicella made the announcement standing outside the gates of the failed shipbuilder off Seaview Avenue with blow-up images of Himes touring the business in 2010. A Himes spokesperson responded that Debicella's rhetoric is loaded with hypocrisy.
Debicella, speaking to reporters, claimed Himes voted to give Derecktor $3 million in government stimulus money in 2009, which the company received in August of that year. Derecktor filed for bankruptcy in 2012 for the second time in 5 years. It had once employed 300 workers. The company announced in 2011 it was dramatically cutting back operations citing economic conditions.
A new video released Monday by the Debicella campaign claims Himes denied having helped Derecktor.
"The timeline here is very clear," said Debicella. "Jim Himes voted in 2009 to give Derecktor $3 million. In 2010 he tours the facility for a photo op. Then just two years later they go bankrupt for the second time in five years. Then later that year when asked about Derecktor, Himes denied he had nothing to do with it."
"Derecktor Shipyards is a perfect of example of why Connecticut is 50th out of 50 in job creation," added Debicella in a statement. "Jim Himes thinks the way to create jobs in Connecticut is to give millions of taxpayer dollars to mega-yacht builders so he can take a photo op, while I believe it is to reform the tax code, help the long term unemployed, and empower small business."
Debicella announced images from Himes' Flickr account show he took a tour and photos at Derecktor Shipyards on January 8, 2010.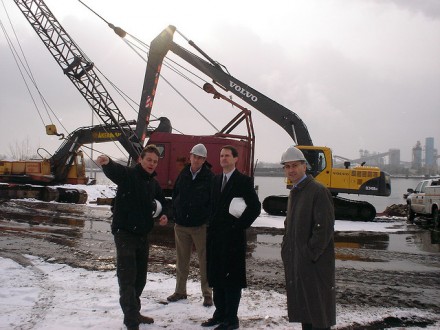 Libby Carlson, campaign spokesperson for Himes, returned fire, declaring that Debicella wants to have it both ways blasting the stimulus bill but touting grants to his towns when he served in the State Senate.
"Dan Debicella is criticizing Jim Himes for voting for the Recovery Act, which was critical to helping Southwest Connecticut recover from the worst economic crisis since the Great Depression. Dan Debicella is criticizing one Recovery Act project while he celebrated a series of projects in the law that benefited his state Senate district."
Debicella says he supports creation of an urban enterprise zone for Bridgeport that levels the playing field for everyone, not just selected companies. He added that he supports a lifetime of tax-free incentives for company relocation. The companies should pay "no taxes for coming."
This is the second Debicella/Himes battle. Debicella lost to Himes by six points in 2010. Debicella, a Bridgeport native, has made Bridgeport a focal point in his race this cycle, hoping to attract unaffiliated voters and disaffected Democrats on a jobs message to cut into Himes' urban base.