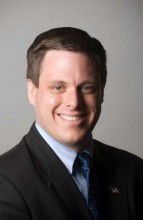 UPDATE includes Debicella announcement: Republican Dan Debicella ran a competitive race against Democratic Congressman Jim Himes in 2010, two years after Himes had defeated 20-year Congressman Chris Shays in the Barack Obama tsunami. Debicella was born in Bridgeport, his dad was a city police officer. Except you wouldn't have known that by the kind of campaign Debicella ran. The former two-term state senator announced to Hearst Connecticut Newspapers he'll seek a rematch against Himes in 2014. Will Debicella run from his Bridgeport roots again?

"It's a game of inches," Debicella told Hearst. "I actually think this race is much like it was four years ago and will be the most competitive congressional race in Connecticut."
Debicella has a nice story to share with city voters, a Bridgeport kid done good. A father who worked in city law enforcement. He has an MBA from Harvard and graduated from the University of Pennsylvania.
Debicella recently left his management position at Bridgewater Associates, the world's largest hedge fund, according to the Hearst story.
Connecticut's 4th Congressional District covers a 17-town region that includes Bridgeport and the Republican-rich Fairfield County gold coast. Republican strategists make the mistake of writing off Bridgeport and as a result their candidates are getting croaked at the polls instead of cutting into margins. In campaigns, winning is relative. No, they will not win Bridgeport outright, but 30 percent of the vote (Republicans for state and federal office are having trouble cracking 20 percent these days) is obtainable with the right messaging centered on specific city issues. It's not just about throwing campaign money at something. The message must be on a level city voters can understand. Here's how I'll help the city on a federal level with redevelopment. Here's what I'll do about Steel Point. Here's what I'll do to help clean up abandoned buildings. Here's what I'll do about infrastructure improvement. Here's what I'll do about jobs.
It's not a chicken-in-every-pot strategy. It's about connecting credibly with voters on the local issues they touch and feel at home.
In 2010 the Debicella campaign said screw Bridgeport, we won't campaign there except in GOP-relevant Black Rock, even though I was born in Bridgeport, my dad was a city police officer, Bridgeport put food on my family's table. When you have an opportunity to connect with voters on a personal basis you do it, especially if you have the money and Debicella's camp had plenty of dough to make a case in Bridgeport.
Will next time be different?
Debicella news release:
FAIRFIELD – Former State Senator Dan Debicella (R-21) announced today that he is running for Congress in 2014 in Connecticut's 4th Congressional District.

Debicella was the 2010 Republican nominee for Congress, which Jim Himes won by 53-47%–making it the closest federal race in Connecticut. The highly competitive race made CNN's Top 100 Most Competitive Races list, Politico's Daily 10 (a tracker of the closest House Races), and Real Clear Politics' list of "toss up" races.

"The definition of insanity is doing the same thing over and over again, and expecting a different result," said Debicella. "We cannot expect different results in Washington if we continue to send the same people there to represent us. Jim Himes has failed us in so many ways. He has promoted bad economic policies that have made Connecticut the worst state in the nation for job growth, exploded our national debt by trillions of dollars, and increased health care costs for middle class families."

Debicella added, "But even worse, Jim Himes has chosen to be part of the corrupt Washington culture—adopting the very practices he once railed against. He writes legislation with lobbyists in exchange for millions in campaign contributions, and spends his time raising money with special interests rather than solving our nation's problems. Instead of trying to find bipartisan solutions, Himes talks a lot about working together and then votes lock-step with his political party. Jim Himes has become part of the problem."

Debicella cited the "Himes amendment" as an example of how Himes has become part of the corrupt Washington culture. The New York Times recently reported how Citigroup, Himes' largest campaign contributor in 2012, drafted a bill for him to co-sponsor that would strip one of the largest provisions of the Dodd-Frank financial regulation on banks. Himes has taken $2 million dollars from Wall Street since his first election for Congress in 2008. "Watch what Himes does, not what he says," added Debicella. "While railing against special interests and partisan gridlock at home, Jim Himes is engaged in both on a daily basis in Washington."

In contrast, Debicella promises his campaign will focus on solutions. "Over the next fourteen months, I will be laying out plans to create jobs, reduce our deficit through lowering spending, and improving the quality of life of families in Fairfield County. Whether in my business, State Senate, or community involvement, I have been a problem-solver–and I want to bring that attitude to Congress rather than the current partisan gridlock."

"If people believe Washington is getting it right, they should vote for Jim Himes. If they believe there is a better way–one where we are Americans first and Republicans and Democrats second–they should send me to Washington."