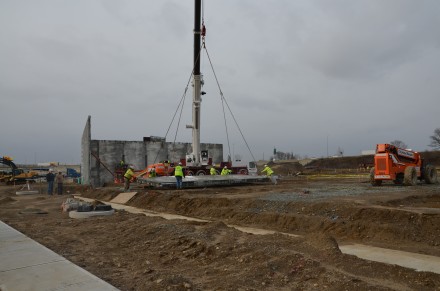 UPDATE: Includes link to Hugh Bailey article. Redevelopment of a troubled area of the East Side has been more than 30 years in the making and the project still has its share of cynics, but something happened on Thursday that never occurred before: vertical construction.

Bay Crane began erecting walls for construction of the mega outdoor retailer Bass Pro Shops, the anchor tenant for the project that also includes a Starbucks and Chipotle in the first phase of construction. Developer Robert Christoph Jr. says all three will be open for consumers in the fall of 2015.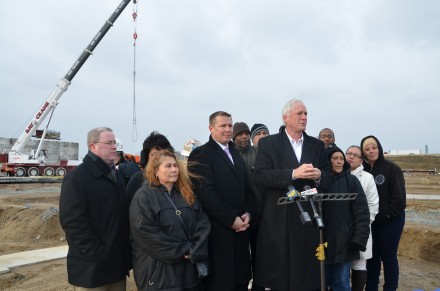 In 1983 Mayor Lenny Paoletta first proposed the Steel Point redevelopment of the East Side, in close proximity to Downtown, along the waterfront. Former mayors Joe Ganim and John Fabrizi through eminent domain clearance and project developers moved the ball down the field to help make the site ready for construction. But not until the beginning of Mayor Bill Finch's eighth year as chief executive has the site gone vertical through tenant attraction.
"It's a great day in Bridgeport to see vertical construction happening at this site," said Finch in a statement. "After decades of broken promises, it's finally happening. Steelpointe Harbor will serve as a major boon for the city's economy with Bass Pro Shops serving as the site's flagship store. This is further proof that Bridgeport is getting better every day."