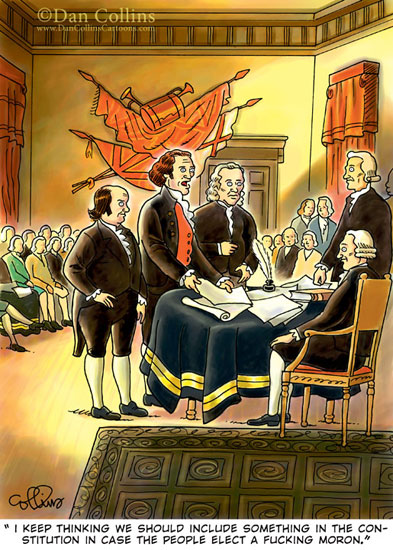 This cartoon by Dan Collins, which originally appeared in the Holiday issue of Hustler magazine 2007, appears here with Dan's gracious permission. Help out this starving artist by checking out his online tee shop at
www.cafepress.com/collinstoons
.
Dan's cartoon sorta says it all. (Bushy take note.) Yahooy hands out the philistine of the week award, maybe we should start political moron of the week. That might be a difficult call considering the lengthy line of potential maroons. (Let's not make the moron of the week retroactive. I'd have won a few weeks myself.)
One pol that will not qualify for the award any time soon is Barack Obama. Congrats to Barack. I'm not convinced yet that Hill is the best person for the second slot, but we'll see.
I'm cheering for Sly Salcedo to qualify for the Aug. 12 Democratic primary for state representative in the 130th Assembly District. Anyone that has the guts to proclaim that the war on drugs is a charade is okay by me. So please, everyone in the South End, West End and East Side, sign his petition for ballot entry. (Just make sure you're registered.) We gotta give district powerbroker Mitch "The Switch" Robles' candidate City Councilman Eze Santiago a run for his absentee ballots. Actually, I've heard Eze's a nice kid. That prehistoric noise you just heard came from Chico Rivera. Okay, Chico, I want you to qualify as well, and even Cougar Rodgerson. We need a good free for all. It might juice turnout a percent or two. In a large field a couple of hundred votes could win.
Most candidates vying for the ballot will opt for the state's public financing program. Qualifying is not easy, although it takes out much of the special interest money. State rep candidates must hustle $5,000 in small contributions to qualify for additional $25k, state senate contenders $15,000 to secure an additional $85k. Connecticut Secretary of the State Susan Bysiewicz lauds the program in a press release below:
BYSIEWICZ CELEBRATES OFFICIAL KICKOFF OF CITIZENS ELECTION FUND PUBLIC CAMPAIGN FINANCING FOR 2008

(HARTFORD) – Connecticut Secretary of the State Susan Bysiewicz issued the following statement to celebrate the official launch of the Citizens' Election Fund public financing for the 2008 legislative elections in Connecticut. Candidates who raise qualifying contributions are eligible for $25,000 for a House race and $85,000 for a Senate race. Secretary Bysiewicz, Connecticut's top elections official and a longtime advocate for clean government, said:

"I am so proud to join with my fellow public officials and advocates who helped turn the idea of public campaign financing in Connecticut into a reality. Today is a great day and we deserve to celebrate.

Those of us who have been around state government long enough remember the early battles of campaign finance reform. I have been fighting to try and limit the influence of money in politics for at least 16 years in this state. When I was the house chair of the Government, Administration and Elections Committee, we got it out of committee but sometimes couldn't even get a vote on the floor of the house. But we kept up the good fight. And I have to say thank you to Governor Rell for also joining this cause. On many things we disagree but on the issue of integrity in government and our political process we are on the same page.

Unfortunately, it took the worst corruption scandal in our state's history–years of illegal payments by campaign contributors and contract steering during the Rowland Administration–for our political leaders to see the light. The only way to have truly clean elections is to provide public financing. This removes the need to solicit donations from lobbyists or state contractors who often want something in return for their contributions.

Instead, rather than raising money our candidates for state office can spend time talking about the issues of most importance to the voters – education, energy prices, the environment, public safety, and more.

The candidates now have to have grass roots support – know their constituents – enough to qualify for public funds if they opt in.
Himes For Barack
Democratic Congressional candidate Jim Himes, challenging Republican Chris Shays, released this statement today regarding Barack Obama:
JIM HIMES STANDS WITH SENATOR OBAMA

STAMFORD, CT: With the last Democratic primaries ending, and Senator Barack Obama having received the commitments necessary to win the Democratic nomination, Democratic candidate for Congress Jim Himes made the following comments today:

"In Connecticut and across the nation, this campaign season has seen unprecedented turnout from voters young and old, black and white, rich and poor – all of them standing up in record numbers to say they are ready to turn the page on the failed policies of the past eight years.

"Hillary Clinton has run an historic campaign, and she and her supporters should be proud. As this process draws to a close, it is clear to me that the values that unite the Democratic Party, values that both Clinton and Obama share, are much stronger than what divides us.

"I am proud and excited to be running with Barack Obama as the Democratic nominee, and I will do everything I can to make sure we both win in November. Voters across our district and the nation have made it clear they are ready for new energy in Washington, not the same old politics of the past offered by John McCain and Chris Shays. Senator Obama has the vision, the new energy, and the ability to restore America to the values that made it great. As Congressman next January, I will bring that same energy to Washington to help President Obama deliver the real change voters are hoping for – fixing our economy, standing up for the middle class, bringing our troops home from Iraq, and reclaiming our standing in the world."