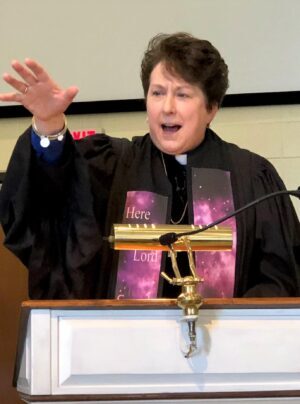 Faith leader, legal scholar, local green technology innovator, Sara Smith, senior minister of Bridgeport's United Congregational Church will likely become the newest member of the City Council Monday night when the legislative body selects a replacement for the seat vacated by Marcus Brown who now represents Connecticut's 127th State House District in the General Assembly.
Democratic District Leader Tom Gaudett, who serves as deputy chief of staff to Mayor Joe Ganim, has notified the City Council that members of the West Side 132nd Town Committee have recommended Smith to fill the vacancy. She is also a member of the town committee.
The City Charter authorizes the council to fill vacancies by members of the same political affiliation that reside in the same district. Historically the council ratifies, though not bound by it, political district recommendations. Milton Johnson, a retired city police officer, also submitted an application to the town committee for consideration.
Smith will bring impressive credentials to the 20-member body. In addition to her ministry on North Avenue, she is president of nOURish Bridgeport, a food-centered destination featuring an indoor hydroponic farm in the East End. She is well connected to the city's social service network of programs. She also has a degree from University of Houston Law Center.
See Gaudett letter to City Council.
See Smith Resume.
See Smith 132nd Council Vacancy Application.
Excerpt from Smith application: