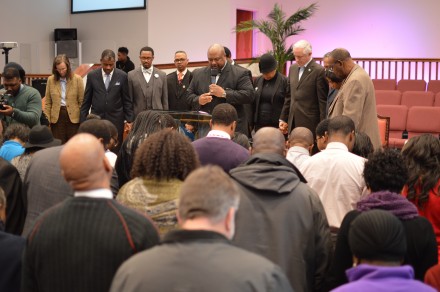 With the public backing of Mayor Bill Finch, a faith-based education advocacy group, FaithActs for Education, conducted its first meeting on Monday declaring a dedication "to improving education for all children in Bridgeport, no matter what type of school they attend."

Whether district, charter, parochial or private schools, the group's founders say they will advocate for better schools and more opportunities for students. The mayor attended the kickoff event at Cathedral of Faith Church of God on Fairfield Avenue, saying "We know where we are and where we need to go. FaithActs for Education will help us to become even more of a force to be reckoned with."
From the organization's website:
FaithActs for Education is a 501(c)(3) nonprofit public charity that receives our funding from foundations and individuals–we truly can't do this work without you. Don't hesitate to contact us in order to learn more about our organization. If you're able to contribute financially to our cause, please make checks payable to FaithActs for Education and send to:

FaithActs for Education
285 Fairfield Avenue
Bridgeport, CT 06604

We are committed to financial transparency. As soon as we complete our first Form 990 and annual audit, we'll upload our financial reports to this site.
News release from the group's spokesperson Robert Bellafiore:
Calling "a strong education the key to freedom," faith leaders from across Bridgeport today launched a dynamic first-of-its-kind advocacy organization solely dedicated to improving education for all children in Bridgeport, no matter what type of school they attend.

The non-profit, non-partisan organization is called FaithActs for Education. It was announced at a news conference at Cathedral of Faith Church of God on Fairfield Avenue. The event included praise performances by Russell Temple Praise & Worship Team.

"FaithActs for Education has been created to empower clergy and their congregations to advocate for improved educational opportunities for Bridgeport's children," said Rev. William McCullough, FaithActs for Education's Board Chair and Pastor of Russell Temple CME Church. "We hope to unite and equip faith leaders to unlock the transformative potential of education for all children."

"Education is fundamental to freedom–the freedom to influence your own destiny, your own future, where you live, where you work, whether you work, the family, the community, friends, life itself," said Rev. Jeremy Williams of West End Tabernacle CME Church.

"The great movements toward equality have always involved people of faith," said Bishop Derek Calhoun, FaithActs for Education's Board Secretary and Pastor of New Visions International Ministry. "This is more than public policy. This is a moral imperative. Children and families need to move from despair to hope, and advocating for an educational system that provides them with a future is where we believe we can serve them best."

"Education is the great equalizer. It the key to eradicating the many inequalities that plague our community–income inequality, job inequality, opportunity inequality, housing inequality, and every other one you can think of," said Rev. Carl McCluster of Shiloh Baptist Church.

"There is a scene in 'Selma' where Dr. King sits in an Alabama jail cell baring his doubts about the cause. His asks himself essentially, 'What has our movement truly accomplished if a black man can sit at the same lunch counter as a white man, yet cannot read his menu, or lacks the job and thus the funds to pay for his meal?' That's why we're committing our efforts to education–so people can realize the full promise of the civil rights movement, the work of Dr. King and others," said Rev. Theodore Plummer of Full Gospel Church of God in Christ.

"Freedom is the ability to choose not just a school but a place to live, an occupation or a profession, a vocation or an avocation. One cannot choose unless one is educated. And if you cannot choose, if your destiny is in the hands of others, you cannot be free," said Bishop John Diamond of Cathedral of Faith.

Bridgeport Mayor Bill Finch, who attended the launch, said: "We know where we are and where we need to go. FaithActs for Education will help us to become even more of a force to be reckoned with."

FaithActs for Education's day-to-day work will be led by Executive Director Jamilah Prince-Stewart, a native of New Haven and graduate of Yale University who has spent the last five years working to improve educational opportunities for Connecticut's children.

"Our first order of business will be to reach out to faith and community leaders across Bridgeport to let them know about our mission and invite them to join in the work," said Ms. Prince-Stewart. "We want to work with everybody."

FaithActs for Education's agenda will focus on better schools, no matter the type. While the organization supports options for parents, it does so while acknowledging that 85% of Bridgeport students attend traditional public schools.

"I've been asked 'what camp are you in?'" said Rev. McCullough. "The answer is simple: we're in the camp of children and families. We are not putting on the jersey of any one side except the side of our families. We are for making schools work better for all children."

FaithActs for Education's work is built on five core values:
● Guided by Faith: We have deep faith in God and in the power of communities to take on the important work of providing all our children with a transformative education.
● Serving the Children: We are here to relentlessly serve and responsibly invest in what works best for our children.
● Cultivating Authentic Partnerships: We believe in forming authentic relationships that bring our community together, collaborating with the greatest sense of mutual respect and integrity.
● Taking Ownership: We embark on our work by humbly taking our share of responsibility for the current educational inequity, and take ownership of changing it for our children.
● Driving Toward Impact: We believe results should be measured with transparency and rigor.
Our work will center around three key activities:
● Organize: Develop leadership capability to advocate on behalf of low-income and working class families for high-quality schools and educational justice.
● Educate and Equip: Help clergy and congregants understand the current reality of the education system and the abundant possibilities for improvement.
● Build Bridges: Combine voices of faith leaders and congregations with those of community stakeholders to broaden the movement for better schools.
More information about FaithActs for Education can be found at www.faithactsedu.org.