Here's a novel approach to this caustic presidential cycle: civility in a State Senate forum. Thursday night incumbent Democrat Marilyn Moore and her Republican challenger Elaine Hammers squared off in a forum (video above) at the North End Library hosted by the Connecticut AARP and Greater Bridgeport Latino Network addressing tolls, health care for seniors, education equity, funding for Bridgeport, regional services, development and gun safety. Roughly 40 people attended.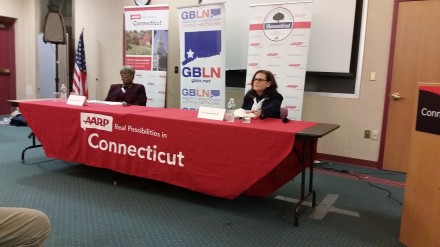 Connecticut's 22nd District covers about one-third of Bridgeport, all of Trumbull and a piece of Monroe. It's considered a swing district due to its city-suburban registration mix.
The tone for the one-hour forum was civil and gracious, no heated exchanges, many agreements with some policy differences.
The candidates opened with their backgrounds: Moore, a retired telephone company executive who founded a health care organization for women and was elected to the State Senate in 2014; Hammers, a former state legislator and Trumbull finance director, currently small business operator and chair of the Trumbull Board of Finance.
If there was any raised passion during the forum it came during the subject of modern tolls, along state borders, which both candidates support to raise additional revenues for a budget-challenged state. A mileage tax, based on the mileage a motorist has traveled, has also been floated. To the mileage tax Hammers said "Hello, no! … I can live with tolls," adding every state she visits has tolls.
"I support tolls," said Moore, declaring "I see so many cars and trucks from other states that use our highways."
On the subject of revitalizing cities, Moore declared that there must be an ongoing, institutional effort by local government to recruit businesses. Hammers suggested additional enterprise and empowerment zones. They also agreed that more regional services can save communities money. They cited a regional sewer system and regional magnet schools as examples of what has been started. Hammers added that regional services, however, must make sense. A regional health district between Trumbull and Monroe, she said, was eliminated because it did not generate the anticipated savings. Moore added that additional regional schools and a mixing of students for enhanced cultural opportunities would be helpful.
They also agreed that the state must fully fund payments in lieu of taxes for communities with tax-exempt properties such as hospitals and state bridges, an effort that was beefed up in the last year but did not go far enough. Hammers said it was wrong that Hartford, the third largest city, always receives more state support, than Bridgeport, the most populous city.
They also agreed, citing a recent court ruling, that the legislature must address the inequity in education funding that shortchanges cities.
In closing comments Moore said she is the voice for people who don't have a lobbyist in Hartford. Hammers declared that Connecticut was at a crossroads and voters must change who is in charge of the state.