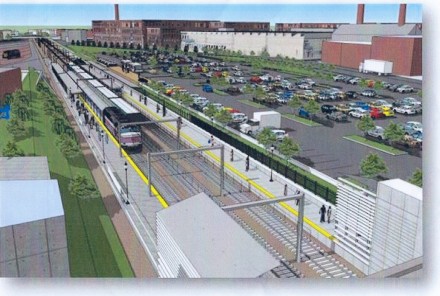 After years in the making the city is on the verge of gaining control of 11 acres on Barnum Avenue adjacent to the proposed site of a new train station on the East Side. The abandoned Remington property for years plagued by fires with some buildings recently demolished had been controlled by RemGrit Realty whose principal Sal DiNardo hammered out a settlement of taxes agreement with the city following a filing in U.S. Bankruptcy Court. The City Council's Miscellaneous Matters Committee will take up the measure at its Monday meeting.

Under the agreement the city will own 11 of 16 acres at 889 Barnum Avenue. RemGrit maintains ownership of five acres, but has agreed to a three-year moratorium of development of the property until completion of a state-funded grant examining transit oriented development in the vicinity, according to Bridgeport Economic Development Director David Kooris.
Based on an appraisal of the property, the city will also receive $315,000 for taxes owed on the 11 acres, not nearly the full tax price tag, but considering the environmental cleanup required of the industrial eyesore, a prudent step to advance the development, says Kooris, as a complement to the train station development.
Kooris says he is confident a second train station will happen.
"If the train station is going to work we need public control of property within the vicinity," he says.
His office, in conjunction with the City Attorney's Office, filed a lawsuit against RemGrit for back taxes of the vacant industrial property. In a procedural move RemGrit then filed for bankruptcy. Negotiations ensued that allows the city to retain control of a majority of the property.
Former Mayor Bill Finch proposed the train station as part of a redevelopment of the troubled East Side. More than $10 million in state and federal funds have followed for a project that could eclipse $100 million.
Mayor Joe Ganim supports a second train station for the city.
Kooris, appointed development chief by Finch in the summer of 2012, has been asked to stay on by Ganim.