Friends, family, police officers and city officials Saturday night honored Police Chief Armando J. Perez at The Cuban Lyceum as the city's first Cuban-American police head. On March 1, Perez was appointed acting chief by Mayor Joe Ganim shortly after the resignation of Joe Gaudett who negotiated a new consulting contract to oversee the emergency operations center. The move fulfilled a campaign pledge by Ganim in a nod to the political support he received from police union leadership that desired a change at the top.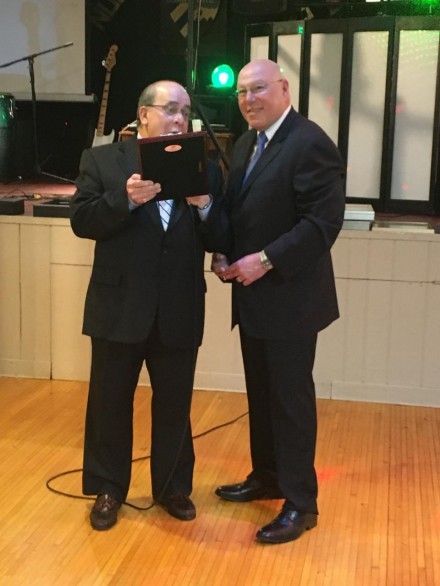 The genial Perez, who joined his family in a move from Cuba to the United States when he was about 12, has been a ubiquitous presence in the city, attending numerous city functions. Although technically acting chief, Ganim will do everything within his power to ensure his ally remains chief for the years to come. The Civil Service selection process for a permanent chief could take up to a year with Ganim authorized by City Charter to select among the top three recommended candidates.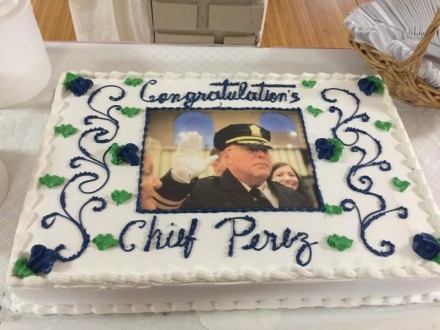 Negotiating a new role for Gaudett became a sticky issue for Ganim. One of Bill Finch's last acts as mayor was appointing Gaudett to a new five-year term. In lieu of a hefty buyout to open up the chief's slot, Ganim made use of Gaudett's experience overseeing the emergency operations center, a role he had prior to serving as chief. But before that Ganim had brought back former Chief Wilbur Chapman as a senior adviser for public safety to help with a reorganization of the Police Department and make life uncomfortable enough for Gaudett, he was willing to accept a new role.
Assistant Chief James Nardozzi, who was brought in by Finch to reel in out-of-control police overtime, was a casualty of the shake up. He's threatening to sue the city for breach of contract. Chapman and Chief Administrative Officer John Gomes also streamlined city employee take-home vehicles with an emphasis on the police department under the guise of a money-saving measure. The move has ended up being an exercise in musical cars. Many vehicles were simply redeployed over the ensuing months, according to sources who say they turned in a car only to receive a different model as the dust settled.
Chapman signed up for a six-month gig at $64,000. He has about one month remaining. Ganim critics argue the mayor is actually paying three chiefs–Perez, Chapman and Gaudett–instead of one. Will Chapman stay on?
Capricious crime statistics have been on Perez's side in the two months he has been in charge. The city experienced just one homicide the first third of 2016 with a dip in violent crime, a point city officials are expected to highlight in the coming days. Finch had also touted lower crime rates as mayor but he often was his own worst enemy citing lower crime statistics following high profile violent crime incidents that turned off voters, a point Ganim seized upon on the 2015 campaign trail.
Biography of Perez from city's Police Department website:
He was the oldest of three sons borne to Maximo and Rosa Perez. He is currently married to Isabel Perez, and has three children: Kelly Ann, Armand and Gabriella Perez. In June of 1968 his family had the good fortune to immigrate to the United States. They settled in Bridgeport where he and his brothers attended Saint Patrick's School and later Kolbe High School. He later went on to work for Connecticut National Bank and attended Sacred Hart University.

On July 20th, 1983, AJ Perez became a Police Officer for the City of Bridgeport. He was assigned to the Patrol Division where he worked the West Side of the City spending his first five years in Radio car Blue 11 in the P.T. Barnum Housing Complex. He was reassigned to the East Side where he worked Radio car Red 41, and later to the Green Sector Radio car Green 35 an Amber 23.

Perez was promoted to the rank of Sergeant in 1993, and assigned to the East Side of the City. In 1994 he was reassigned the Office of Internal Affairs. In 1998, he was assigned to the Mayor's Office and later reassigned to the Chief of Police as his executive Officer.

Perez was promoted to the rank of Lieutenant in 2001, and was later assigned to the Professional Standards Division as the Officer in Charge of Sick or Injured Officers. On October 2009 Perez was assigned to the Tactical Narcotics/Vice Division and was later promoted to the Rank of Captain in 2010. In July of 2013, Captain Perez was placed in charge of the Detective Bureau as Commander where he remained until his appointment as Bridgeport Chief of Police.