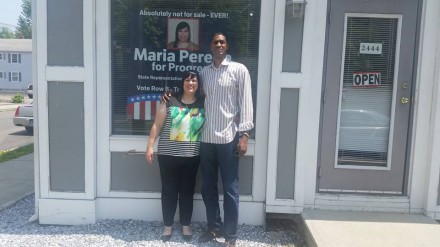 Harding High School basketball star Charles Smith stopped into the city Wednesday to visit his old classmate Maria Pereira at her East Main Street headquarters. They attended high school together in the mid 1980s.

Charles, who toyed with running for Bridgeport mayor 10 years ago, is one of the good guys, but for long-suffering New York Knicks fans, the indelible image of 6'10″ Bridgeport hometown hero Charles Smith missing layups with Scottie Pippen and Michael Jordan hanging on his back is a 23-year-old nightmare. Charles made news a few years ago when he expressed remorse for joining Dennis Rodman's man-crush visit with North Korean leader Kim Jong-un.
Leave it to the mischievous former City Councilman Joel "Speedy" Gonzalez to frame the Pereira-Smith image in a Facebook post to Pereira: "do you know that you are as short as Mario standing next to Charles Smith?" he writes referencing Bridgeport's short but mighty Democratic Town Chair Mario Testa.
Pereira's trying to stuff incumbent State Rep. Charlie Stallworth in an August Democratic primary. Hmmm, could a mailer to the district from Charles Smith be in the offing? If only Charles coulda stuffed that shot we reprise below. Watch and weep.