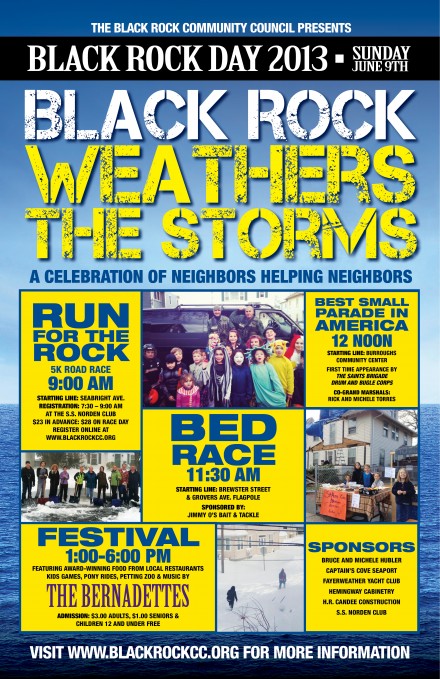 From the Black Rock Community Council:
The Black Rock Community Council is proud to present the schedule of events for this year's Black Rock Day celebration to be held on Sunday, June 9, 2013. The theme of this year's festivities is "Black Rock Weathers the Storms … a Celebration of Neighbors Helping Neighbors" which highlights how the community came together during Hurricane Sandy and the Blizzard of 2013.


Black Rock Day kicks off at 9 AM with the 31st annual "Run for the Rock" 5K road race. Registration begins at 7:30 AM at the S.S. Norden Club on Seabright Avenue. The race starts at 9 AM and winds through the historic neighborhood of Black Rock and scenic St. Mary's-by-the-Sea. Registration fee is $23 in advance or $28 on race day. Visit www.blackrockcc.org to register.

The SS Norden Club will also be hosting an all-you-can-eat breakfast buffet from 8-11 am. Tickets are $6 for adults / $3 for children under 12 and should be purchased at the door.

At 11:30 AM, the 6th annual Black Rock Day Bed Race sponsored by Jimmy O's Bait and Tackle takes place beginning at the Brewster St. & Grovers Ave. flagpole and ending at Ellsworth Field. Prizes will be awarded from the main stage immediately following the parade. To enter or for more information contact Dean Wilkinson at dno61@msn.com.

At 12 noon, the Best Small Parade in America kicks off from the Burroughs Community Center with Co-Grand Marshals Rick and Michele Torres, the owners of Harborview Market that is celebrating 20 years as a Black Rock institution. The parade winds through the neighborhood streets and past the official reviewing stand at Ellsworth Field. Parade participants, include a first-time appearance by The Saints Brigade Drum and Bugle Corps from Port Chester NY, as well as The Connecticut Alumni Drum and Bugle Corps, Spirit of Black Rock Fife and Drum Corps, local schools, civic organizations, dignitaries and much more!

The Black Rock Day celebration culminates with a festival at Ellsworth Field from 1-6 PM. Listen to the sounds of The Bernadettes while enjoying award-winning food from local restaurants. There will be plenty of activities for the kids including arts and crafts, games, pony rides, petting zoo and much, much more! Also, the St. Ann's School tuition raffle is taking place at 1:30 on the main stage. Admission is $3.00 for adults and $1.00 for seniors. Children under 12 are free. All proceeds to benefit the Black Rock Community Council.

Major sponsors of the day include Bruce and Michele Hubler, Captain's Cove Seaport Fayerweather Yacht Club, Hemingway Cabinetry, H.R. Candee Construction and the S.S. Norden Club

For complete information on all the Black Rock Day festivities, visit the Black Rock Community Council's website www.blackrockcc.org.