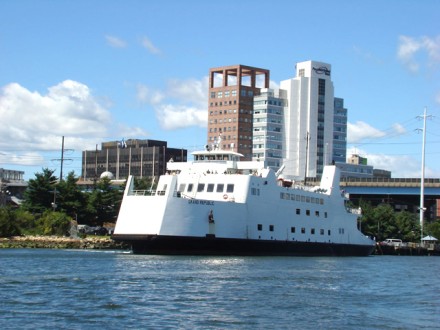 The city has a transportation jewel, the Bridgeport and Port Jefferson Steamboat Company terminal downtown.
Some one million travelers each year traffic the city's ferry terminal owned by the Bridgeport Port Authority. Many head over to Port Jefferson, Long Island from the city and surrounding suburbs, and some come over from the other side of the pond to work and attend events at the arena and ballpark, and environs. Officials for the Bridgeport and Port Jefferson Steamboat Company, led by Brian McAllister, want to move the ferry terminal to the other side of the harbor on the East End for a new facility with upgraded services and improved parking while cutting the trip by 10 minutes with immediate access off I-95.

Many business leaders and officials representing the Port Authority, a quasi-city agency which owns the ferry terminal property along Water Street, say the ferry service is vital to support businesses and attractions downtown. The relationship between McCallister and the Port Authority is not exactly smooth sailing. More like a canoe against the tide. Legal battles between the Port Authority and McCallister, primarily over tariff payments, have bled Port Authority finances. A federal court ruling allows the Port Authority to collect a tariff, but every dollar must go to the betterment of the ferry company or passengers. McCallister's lease comes up next year. So how to keep the terminal downtown? Some discussions have centered on a terminal purchase. The Port Authority says it's worth $8.5 million. McCallister says it's worth under $2 million. Can they split the difference?
The Port Authority has little money, no staff; Chief Administrative Officer Andy Nunn is doing what he can to fill the void. The Port Authority needs a dose of purpose. The ferry company wants to know its future with the city. Be nice if someone could step up to sort it all out.
Himes' Pelosi Peel Out
Congressman Jim Himes is trying to create distance from Speaker of the House Nancy Pelosi. Too much spending, says Jimmy. So Jimmy's running, but can he hide from Republican attacks? The GOP is looking at a four-way primary to challenge Himes between party-endorsed Dan Debicella, former Bridgeport GOP Town Chair Rick Torres, Easton First Selectman Tom Herrmann and Rob Merkle. From Jimmy:
In Case You Missed It

Politico: Himes Pushes Pelosi to Reduce Spending

An article in Politico today highlights the impact of efforts led by Congressman Jim Himes (CT-4) pushing House Speaker Nancy Pelosi to reduce government spending. The article explains that Himes and other freshman lawmakers are urging Democratic leaders in Congress to pay for any new spending moving forward and to cut spending across the board.

Himes' thoughtful approach has led him to support a multifaceted strategy to fix the economy. Taking into consideration advice from economists across the ideological spectrum, Himes supported the stimulus and legislation that has helped stem the tide of foreclosures. However, he has also opposed a number of Democratic spending plans and has urged Congressional leaders to direct TARP repayments and other funds to pay down the deficit. With only half of the funding for the two-year stimulus project spent and increasing concerns—both at home and abroad—regarding the national debt, Himes believes is it time to begin signaling an intention to reduce the deficit.

From the article:

But this time was different: The malcontents were freshmen, many of whom have enthusiastically backed President Barack Obama's agenda most of the way but now are choking on its cost.

Some of the first-term lawmakers said the dollar figure on a nearly $200 billion spending and tax cuts package was too big for them, even if some of the package was paid for with revenue offsets, according to senior party aides.

"I'm just at a point where I don't want to see any more unpaid spending," Rep. Jim Himes (D-Conn.), a freshman from a previously Republican district, told POLITICO the day of that meeting. He said concern about spending is "fairly common" in the 2008 group of freshman House Democrats because they are "a little more inclined to keep an ear to the ground."
This One's A Lulu
I devoured the most amazing turkey and Swiss panini Tuesday afternoon while lunching with Ken Kahn, the new executive director of the Bridgeport Arts & Cultural Council. It was my first visit to Lulu's Café located on the ground floor of 881 The Lofts on Lafayette Boulevard across from Housatonic Community College. This place is the berries. Check it out. You've got to try owner John Passaniti's panini. It's nice to see Ken aboard helping to bring vitality to the city's arts and cultural scene. Lots to promote. Ken has loads of experience in Connecticut and around the country. He's interested in your thoughts, ideas, suggestions. Write to him at krkfinearts@me.com
From Ned Lamont
Unveils Strategy to Renew Connecticut Cities

New Haven, CT – Today, businessman and Democratic candidate for governor Ned Lamont unveiled his "Plan to Renew Our Cities" at a press conference with his running mate Mary Glassman, New Haven Mayor John DeStefano, New Haven State Senator Toni Harp, and Hartford City Council President Pedro Segarra. Lamont outlined a comprehensive strategy to revitalize Connecticut's cities and grow the state economy by improving transportation and education, focusing on smart development and bringing the jobs of the future to the state's urban centers.

"Connecticut's cities were once the hubs of our economy, but over the years they've fallen behind," said Lamont. "As governor, I will fight to revitalize our cities and make them places where people are proud to live, work and raise a family. By focusing on smart development, improving education and giving Connecticut families the tools to build a better life, we can renew our cities and begin a new era of prosperity for the entire state."

"Ned is the leader our state needs right now. He understands the challenges facing our cities and he has the right plan and the right experience to meet them. As a businessman and an educator, Ned has a proven record of bringing people together to solve problems and he is going to bring that results-oriented leadership to Hartford. I'm looking forward to working with him here in New Haven and across the state to create jobs and move Connecticut forward," DeStefano said.

As governor, Lamont will:

• Transform urban education from cradle to career by pulling together teachers and administrators, students and parents.

• Focus transportation strategy on our urban train and bus hubs, revitalizing downtowns, liberating commuters from rush hour traffic, and creating thousands of jobs.

• Ease the property tax burden on city residents by making PILOT payments a top priority, and making it easier for cities to redevelop brownfields, turning yesterday's industrial sites into tomorrow's high-tech facilities

• Help families succeed by increasing access to child care, financial literacy training, job placement assistance, and implementing a state Earned Income Tax Credit

• Foster transit-oriented development by encouraging public-private partnerships and providing incentives for higher-density affordable housing near public transit

Read Lamont's full Plan to Renew Our Cities on his website: action.nedlamont.com/page/s/cities1
Dan Malloy response:
Dan Malloy, the Democratic Party's endorsed candidate for Governor, today responded to Ned Lamont's ideas for revitalizing Connecticut cities:

"The state needs to do more to support our cities and urban areas, and I'm glad to see Ned taking an interest in that discussion. But urban revitalization requires a much more comprehensive, holistic approach than what Ned suggested today. I should know; I spent 14 years turning a city around. Yes, job creation is a huge piece of what we did; almost 5,000 new jobs. But that wouldn't have been possible without the other issues we focused on: we lowered crime by 63%, expanded access to health insurance, made pre-k available to all children, built thousands of units of affordable housing, improved transportation and mass transit, dramatically overhauled the city's infrastructure, and made government smaller and more effective. That's why Stamford has been recognized as one of the safest, best cities in the nation. I welcome Ned to this discussion, and I again urge him to have that discussion with me in cities and towns across the state."