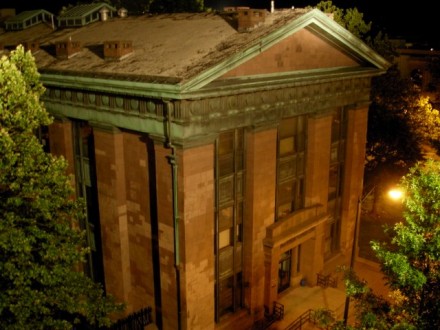 The mayor's office budget proposal includes this goal notation for consolidation of city property.
In addition, we are continuing our municipal consolidation plan, moving city offices from inefficient buildings into space at City Hall Annex, with the eventual goal of selling those vacated properties.

During the past year, we have consolidated the Housing Code and Environmental Health departments into City Hall Annex. We anticipate moving the Probate Court offices, and Vital Statistics and Registrars of Voters offices into City Hall Annex in the next six months.

Built in 1854, the Greek Revival McLevy Hall, located on State Street downtown, was City Hall until the mid 1960s when the original Central High School on Lyon Terrace became City Hall. It's named for Jasper McLevy, Bridgeport's Socialist mayor from 1933-57. Abraham Lincoln spoke there in 1860. The latest assessment of the McLevy Hall property is $1.45 million. Primary city departments are split between City Hall and City Hall Annex, where the mayor's office is located, on Broad Street. The Annex is across the street from McLevy Hall on the Broad Street side. Playhouse on the Green is across from McLevy Hall along State Street. Probate Court offices, Vital Statistics and Registrars of Voters are all located in McLevy Hall. Will the Registrars office move before the election? Yes. They will begin moving into The Annex the week of May 16, according to Democratic Registrar Sandi Ayala.
What developers would be interested in the McLevy Hall property?