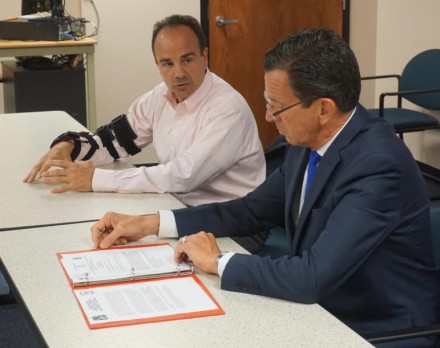 Connecticut has no plan to transform cities into regional economic drivers. The pols in charge say they do, but it's fallacious spin. Cities should and must be economic drivers. When that occurs everyone benefits. The evidence of urban economics for the greater good is overwhelming. Every time a city befalls trouble in Connecticut be it Bridgeport in the late 1980s, or Hartford today under Mayor Luke Bronin, state officials counter we can do more for you under the authority of a financial review board. Some extra moolah, oversight for several years. Then what? There's no institutional plan. Sometimes it is the blind leading the blind.

It happens, a city is bleeding so badly there's little choice. Before Bronin decided to explore a run for governor he poised his hemorrhaging city for bankruptcy. Long story short, the state obliged Bronin, creating an avenue for cities to leverage more money in exchange for a state oversight board. So if Bronin takes the full gubernatorial plunge he's in a message web. You couldn't fix Hartford, how ya gonna fix the state? There is a counter response. You can't fix the state until you fix the cities. And that's a reasonable rejoinder. But where's the plan?
Without urban votes Dan Malloy isn't governor. He squeaked by in 2010 and again in 2014 because of cities. More than seven years later, what's the Malloy report card on resurrecting cities? Stamford, where he served as mayor, has done mighty fine under the list of Malloy news releases. The land mass of Stamford, its proximity, and Malloy's familiarity encourages the former mayor's propensity to wire everything to Stamford. It's Pyrrhic economics. Stamford's an easier sell? That's a lazy way out.
Was Bridgeport a tough sell for former Governor Lowell Weicker? He used to the force of his will in the early 1990s to stimulate the city after then-Mayor Mary Moran's bankruptcy application in 1991 was rejected by a federal judge while Bridgeport was under the thumb of a state oversight board.
During Joe Ganim's early first tenure as mayor, Weicker built Housatonic Community College Downtown, relocated the Troop G state police barracks from tony Westport to Downtown, removed the disgusting demolition-debris blight of Mount Trashmore from the East End, purchased Beardsley Park and Zoo for $10 million, added another $10 million a year in slot revenue, made operation of the train station a state function and opened a governor's office Downtown requiring state commissioners to meet there. With Weicker's help during JG1, taxes did not increase for 10 straight years.
One of Malloy's first acts as governor? He shut down the governor's Bridgeport office. Nice way to thank the voters. Malloy's Bridgeport myopia allows petty politics to cloud his reason. Then-Mayor Bill Finch supported Ned Lamont over Malloy in a 2010 Democratic primary. Malloy kept score. When Malloy was a young mayor and Joe Ganim a young mayor they were rivals. He's still keeping score. Bridgeport was just good enough for Malloy to suck up when the votes were needed. Yes, he will point to some things he maneuvered for the city such as Steelpointe Harbor infrastructure, but only through supportive city political operatives prevailing on the governor to step up. And some of what he supported was an election-year boondoggle. How's the East Side train station doing?
Malloy's attitude? Oh, the pols are a bunch of clowns in Bridgeport, they can't get their act together. Malloy's myopic rationale joins the circus of inaction. Translation: let the people suffer.
So all this talk about a state oversight for cities is just short-term patchwork without a plan.
Maybe one among the logjam of gubernatorial candidates will come up with something in this election cycle.
Here's an incentive idea to drive new business into cities: eliminate the personal income tax for anyone who lives and works in troubled cities. Now you have an incentive to pitch. How ya gonna make up for the revenue shortfall? You measure that against the people, companies, new construction, tax revenue, economic impact it creates for cities and the region by extension.
Nuts? Better than what's coming from Malloy.