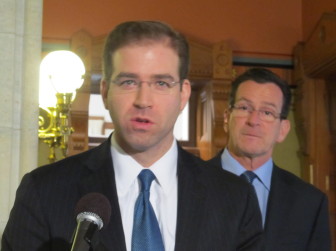 About four weeks from the Democratic Party convention, Hartford Mayor Luke Bronin, whose city received a controversial financial bailout from Governor Dan Malloy, has ended his bid to replace Malloy who's not seeking reelection.

Too soon to determine which Democratic candidate for governor will benefit most from Bronin's decision, but Mayor Joe Ganim, for one, sees Connecticut's cities as his path for candidate relevancy. Bronin, who features an impressive resume, is a disciple of Malloy, the most unpopular Connecticut politician. Want a third Malloy term? Then Bronin's your guy, not exactly a viable platform to jump start a campaign for governor.
More on this from the Hartford Courant:
Hartford Mayor Luke Bronin is abandoning his bid for governor, weeks after a sweeping, state-funded bailout deal for the distressed capital city roiled lawmakers and his political opponents.

At 38, Bronin has risen swiftly in Connecticut politics. The son of a doctor and a former teacher who was raised in Greenwich, he attended Yale University, won a Rhodes Scholarship, joined the Navy Reserve and was deployed to Afghanistan. Before running for mayor, he was Gov. Dannel P. Malloy's top legal adviser.

A Democrat serving his first term in elected office, Bronin opened an exploratory committee in December and has crisscrossed the state attending candidate forums. He raised nearly $230,000 over the past four months.

But Bronin's quest for the governor's seat never caught fire and, in a crowded field, he had trouble gaining momentum. The ambitious attorneys' frayed relationship with organized labor, a key constituency within the Democratic party, further hampered his political climb.
Full story here.