Update, public hearing rescheduled due to pending snow storm. A public hearing on a bill that calls for an open, competitive process to select a gaming enterprise to build a casino in Bridgeport is now scheduled for March 13, 10 a.m. in the legislative office building in Hartford. Heavy snow is expected Wednesday so public hearing has been rescheduled from Thursday to March 13.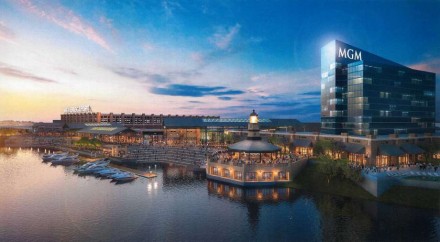 MGM Resorts has proposed a $675 million waterfront casino for the city. Connecticut currently operates under a gaming monopoly in which it receives 25 percent of the slot take in exchange for providing exclusivity to the state's two tribal nations that operate Mohegan Sun and Foxwoods. MGM is pushing for an open, competitive process to select a casino operator while supporters of the tribal nations are trying to kill the bill before the General Assembly's Public Safety Committee. The open process requires state approval.
MGM and supporters of its proposal are rallying turnout at the public hearing under Bridgeport Be Heard. In advance of the public hearing MGM has released a new video promoting its proposal. See above.
Thursday, March 8th is Lobby Day–your opportunity to show legislators that you support an open, competitive process that can help make MGM Bridgeport and 7,000 total jobs a reality. We will assemble at 9:30am at the Legislative Office Building in Hartford to hold a press conference and attend a public hearing on a new legislative proposal that would effectively modernize the state's gaming policy.

We're providing free bus transportation to and from the event. A light morning snack and box lunch are included. Buses will depart from Bass Pro Shops, 1 Bass Pro Drive in Bridgeport at 8:00am, and return to Bridgeport by approximately 2:30pm. Free parking is provided courtesy of Bass Pro Shops. Click here to attend. Or call 203-873-2009.

More info here.