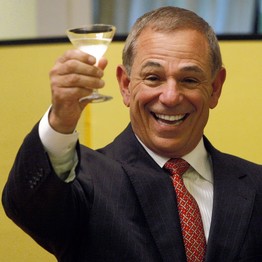 Bobby Valentine is one of the good guys, even if he was a Red Sox manager. Valentine does incredible community work without waving pom-poms. He'll be the featured speaker at Housatonic Community College's gala. Check it out, from HCC:
Making your way up from the high school baseball team, through the major leagues and to the position of Manager of the famed NY Mets and Boston Red Sox doesn't come easily. But hard work, dedication and a never-give-up spirit can make it happen. And even then, things don't always work out as planned.

That will be the primary message that Bobby Valentine, former MLB player and Manager delivers to HCC alumni and Bridgeport's educational, governmental and business leaders at the HCC Foundations' fourth annual Alumni Hall of Fame Gala on November 17. The black-tie event will be held in the Beacon Hall Events Center on the College's Bridgeport campus. Proceeds benefit the Foundation's Scholarship Fund, which distributes approximately $150,000 annually to deserving HCC students.


In addition to the presentation by Mr. Valentine, three prominent Connecticut professionals will be inducted into the College's Alumni Hall of Fame, which was established to honor individuals who graduated from HCC and went on to distinguish themselves in their careers and through community service. They are Linda Bayusik, Director of Student Activities at HCC; Paul Piorek, Television Weathercaster at News 12 Connecticut/Cablevision; and Kevin Russo, Supervisory Assistant State's Attorney, State of Connecticut.

"This event, with the induction of the three distinguished alumni, will again serve as an important reminder to HCC's students that armed with an education and the desire to succeed, they too can reach extraordinary personal and career goals," said Paul Antinozzi, President of the HCC Foundation Board.

"That message is a critical one for HCC's students," he said. "More than half of our student population is composed of minority students, most of whom are struggling financially. Although our annual tuition is only $3,598, that cost is still too high for many of them. The Gala plays a critical role in raising awareness of the disparity and in providing much needed funding for the Scholarship Program," he added.

The Foundation also announced the initial sponsors of the event: Antinozzi Associates, The Bannow Larson Foundation; Bigelow Tea, General Electric, Pitney Bowes, BlumShapiro, Hearst Media Services, People's United Bank and a number of other generous sponsors.

For more information on the Alumni Hall of Fame Gala, tickets and additional sponsorship opportunities, contact the HCC Foundation office at 203-332-5078.