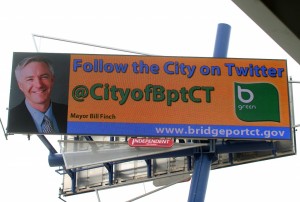 Bridgeport must promote its assets: concert venues, attractions, destination points, parks, restaurants, arts community, sporting events, new housing Downtown. It's an economic driver that brings folks into the city and reminds residents about positive options in their community. The electronic billboard at the Webster Bank Arena promotes in rotation a variety of businesses and venue events. One ad promotes the city with Mayor Bill Finch taking the lead. The mayor highlighting the city is good for the city, in view of tens of thousands of vehicle traffic each day.

In the Downtown area alone, there's the arena, ballpark at Harbor Yard, Downtown Cabaret Theatre, Bijou Theatre, Klein Memorial and growing restaurant options. Check out what's going on at infobridgeport.com
Here's CT Post scribe Brian Lockhart's take:
It's not uncommon for elected officials, Democrats like Finch and Republicans, to appear in ads related to their office.

They're not elected to be shut-ins and one could argue promotion–be it of the city or state–is part of the job. But such ads can also raise questions about the fine line between doing that job and using public resources to campaign.
More here.