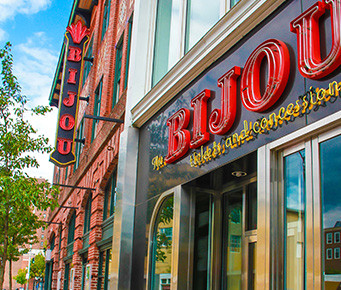 Louie Zayas, owner of Star Factory in Stratford, a popular kids birthday party dancing venue, has purchased Downtown's Bijou Theater, the 200-seat gem on Fairfield Avenue.
Built in 1909, the destination was resurrected by developer Phil Kuchma more than a decade ago and has hosted numerous commercial artists such as Suzanne Vega, Toby Lightman and Livingston Taylor in addition to regular tribute shows, film festivals, comedy acts and community forums.
News release:
Zayas, a Bridgeport native, saw the opportunity to bring a new level of activity to the theatre's already vibrant live music and event offerings.

"I am thrilled to be able to preserve such an important piece of Bridgeport's history and to add to the amazing job that previous owner Gary Peterson has done over the past five and a half years. I look forward to bringing new opportunities for entertainment to the community," said Zayas. "The Bijou Theater will not only continue to host live music, comedy shows, and film screenings, but will now also offer a theatre program for all ages, expanded Star Factory kids' dance parties, and much more.

"We can't wait to build on the great things the Bijou has done since 1909 and share all the exciting changes we have planned," said Zayas.

Former owner Gary Peterson commented, "I could not be happier knowing that this special place will live on in good hands. I'm extremely proud of how the business grew during my time here and I'm thrilled that Louie will be taking over the reins. He is the perfect fit and truly loves the theatre as much as I do. Most importantly, he is that rarest of businessmen whose heart is in the right place. I'm eager to watch the Bijou thrive as he brings a new level of excitement to downtown Bridgeport."

Mr. Peterson will be staying on for several months to assist with the transition of the business.

Louie Zayas adding the Bijou to his portfolio will allow him to bring even more entertainment options to the city of Bridgeport and the State of Connecticut.

The Bijou Theater is located at 275 Fairfield Ave in Bridgeport, CT. More information about the theater and its upcoming events will soon be available on the Bijou Theatre website at BijouTheatreCT.com.