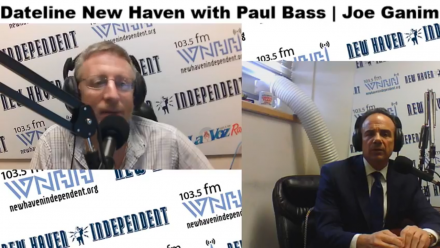 Why go back into politics where the feds could be watching you? OIB friend Paul Bass, editor of the New Haven Independent and host of Dateline New Haven on the affiliate radio station WNHH, interviewed Mayor Joe Ganim on Thursday covering numerous topics including his comeback, running for governor, public financing of campaigns and sanctuary cities. Bass asks why reenter the scrutiny of public service and put yourself in a position where the feds could be watching everything you do? Ganim responds matter-of-factly, "And they should."


With 10 minutes remaining in the interview Bass illustrates the twice-convicted former Connecticut Governor John Rowland as a jump point for querying Ganim about reentering public service with all the potential trap doors. Here's part of the exchange.
"It's hard for me to get into anybody else's mind," says Ganim. "When I came back I had no preconception about wanting to do anything but put my life back together again."
"You're going back into politics again with some dangerous waters," responds Bass.
"No question."
"And it puts you at risk of going back to jail again … (The feds) could be watching everything you do."
"And they should."
Bass declares for some people, including himself, the notion of going to jail is terrifying. Who needs it even if you do nothing wrong?
A seasoned interviewer, Bass has an easy way of asking a hard question. And it leads to the sometimes stoic mayor revealing more about himself in this interview.
New Haven's high-volume urban vote is key if Ganim's going to gain traction in his 2018 run for governor. New Haven, like many cities across the state, will be a frequent stop. Ganim's campaign relevance depends largely on public financing which they touch upon in this interview. The State Elections Enforcement Commission has rejected Ganim's request to participate in the Citizens Election Program of publicly financed campaigns because of his 2003 public corruption conviction. The fund for qualifying gubernatorial candidates provides more than $1 million in a primary and about $6.5 million in a general election.
Ganim is challenging the decision in federal court on constitutional grounds.
If his court challenge fails, and he pursues a statewide run, he'd have to raise money the old-fashioned way through large personal contributions placing him at a sizable money disadvantage.
Ganim discusses this and other topics with Bass. See full interview above and highlights here.