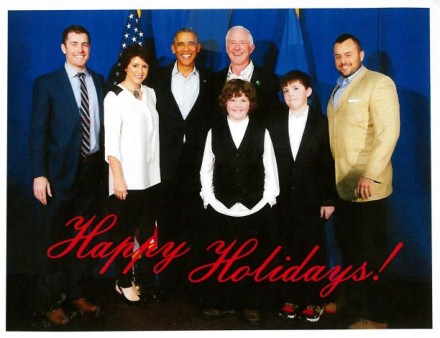 UPDATE: Finch statement. While some politicians run for the holiday hills from Barack Obama's coal-filled stocking approval rating, Mayor Bill Finch embraces him, so much so the mayor mailed a holiday card featuring his family in a photo taken with the president during his campaign stop in Bridgeport for Governor Malloy on the eve of the November election.

Mailed at a cost of less than $200 according the mayor's office, the holiday cards made their way to a variety of constituents, business and elected officials.
Republican City Councilman Enrique Torres, pondering a third run for the mayoralty, says "It's one thing if you send it out of your own pocket. To use city funds to do that is disgusting."
What if it were Ronald Reagan?
CT Post scribe Brian Lockhart weighs in here.
The mayor issued this news release statement Friday afternoon:
Mayor Bill Finch – in wishing a vast array of Bridgeport business leaders, elected officials, city employees, community leaders, and constituents a happy holiday – distributed a card featuring him and his family, as well as President Barack Obama. In response to press inquiries, Bridgeport Mayor Bill Finch released the following statement:

Click here to view the holiday card: http://bit.ly/1r8E32j (Names for people appearing in the photo from left to right:Christopher Finch, Sonya Finch, President Barack Obama, Mayor Bill Finch, Aiden Finch, Atticus Finch, Pete Finch.)

"In November, President Obama visited our state's largest city. My eight year old son, Aiden, had an idea for the whole family to pose for a photo with our country's chief executive while. We all agreed because President Obama is a strong friend to Bridgeport.

"As Mayor, it's my job to make Bridgeport an even better city than it is today – a place where my kids, and your kids, will choose to live, work, and raise their families, too. That's why I've been focused on boosting confidence in Bridgeport. This change is already happening – the reopening of Pleasure Beach after years of neglect, breaking ground on Steelpointe Harbor after decades of broken promises, improving downtown, and building a second train station. Putting this vision to work wouldn't be possible without President Obama investing in it. He's invested in the re-opening of Pleasure Beach. He's invested in Steelpointe Harbor becoming a reality. And, he's invested in bringing a second train station to our city.

"Bridgeport needs strong friends in order to bring about our vision for the city and its future. President Obama is a strong friend. He believes our best days are ahead of us. Together, we're helping our city get better every day. I'm glad that he's willing to pose for a photo with me and my family, and more importantly, he's willing to believe in our vision for the future."