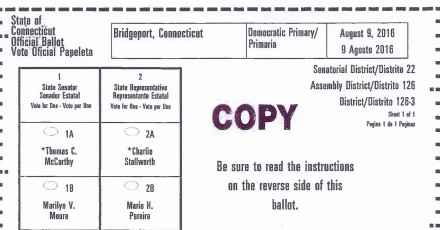 Three weeks until the August 9 Democratic primaries featuring two State Senate and two State House races. Mail, door knocking and absentee ballots are now in full force.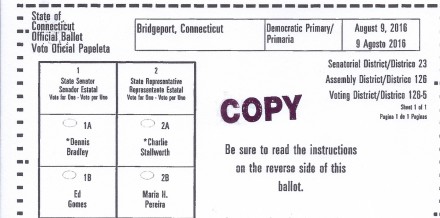 The two state senators representing Bridgeport Marilyn Moore and Ed Gomes must defeat party-endorsed candidates Tom McCarthy, City Council president, and Dennis Bradley, Board of Education chair, respectively, to carry on to the general election. Moore, McCarthy and Bradley all have qualified for public financing that will allow them to spend $100K on their races. Gomes will find out on Wednesday if the State Elections Enforcement Commission will approve his grant application. If so Gomes will spend evenly with Bradley. If not, Gomes will be outspent heavily in Connecticut's 23rd District that covers about two-thirds of Bridgeport and a portion of western Stratford.
Gomes' public grant application was submitted late after his candidacy was rejected by state elections officials, following a paperwork controversy, and then a subsequent court ruling that ordered him on the ballot.
Moore and McCarthy are battling for votes in the city-suburban 22nd District taking in the north and western portions of the city, all of Trumbull and a piece of Monroe.
School board member Maria Pereira is challenging party-endorsed incumbent Charlie Stalloworth, a mayoral staffer of Joe Ganim, in the 126th State House District while multiple-mayoral candidate Charlie Coviello takes on incumbent Andre Baker in the 124th Assembly.
The Stallworth-Pereira contest provides intrigue on a number of fronts including a classic showdown between party establishment and maverick outsider. It is also a split district with the Wilbur Cross and Park City Magnet voting precincts located in the 22nd State Senatorial and Hooker, Hallen, Read and Beardsley precincts in the 23rd Senatorial. See sample ballots above.
Endorsed candidates appear on the top line. In recent years, however, party endorsed candidates in a number of races have been taken out including all endorsed candidates for school board and City Council in 2013; Moore defeated party-endorsed incumbent Anthony Musto in 2014 and last year Joe Ganim ended Bill Finch's mayoral career in a primary.