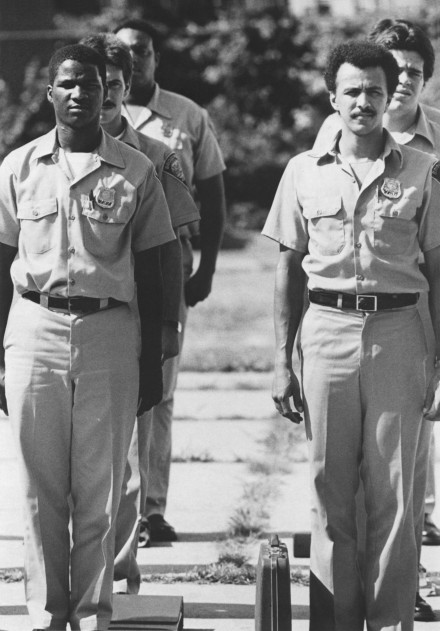 William "Ron" Bailey is a Bridgeport Police Department original. Every stereotype you've experienced and heard about a cop, throw it out the window. Bailey's not built that way. Bailey's an oddity of law enforcement who investigated, infiltrated, grappled (he has the scars to prove it) and was shot at by the baddest of the bad in Bridgeport: the drug bosses, dealers, crazed crackheads and beyond. He was also there to support his fellow officers such as Billy Chase, whose law enforcement work I chronicled in the book Chased: Alone, Black And Undercover.

After 30 years of service, Bailey has retired from the Bridgeport PD as a lieutenant for a new position as chief of security at Holyoke Community College just outside of Springfield, Massachusetts. He begins the new job this week. In 1983, Bailey began his career in the same rookie class as Joe Gaudett, now city police chief. If courage and control are the markings of a great police officer, Bailey is both. Bailey spent the past few years addressing and reeling in overtime issues within the department.
(Full disclosure: in 1993 following the publication of Chased by New Horizon Press, I had a book signing scheduled for Walden Books at the Trumbull Mall. The bookstore staff fielded several phone threats warning if the signing went forward there'd be trouble. Corporate office notified me they wanted to cancel the signing. I assured them I'd provide police protection. When I arrived for the book signing as promised in full colors the line of members affiliated with the Number 1 Family had already filled the concourse to the mall entrance. Bailey showed up on his own time, for no compensation, just in case. The curious people in question recognized Bailey. No one made a big deal about it, especially Bailey. It was a memorable book signing.)
Bailey shares some police work highlights:
1. The first day I was sworn in as a police officer. My son and I ended up with our picture in the papers, he was just nine months old.

2. Surviving my first of six shoot-outs in 1986, Eric Williamson. As a result of his having a semi auto 15-shot handgun compared to our then six-round revolver (of which I ran out of ammo), the department realized we had to have more firepower and brought us in Berettas.

3. Being the first officer to arrest a key member of the Number 1 family, Big Red William Gusti on Clinton Ave. It helped Chase to develop a major case and bring them completely down later on.

4. Being responsible for convincing key members of the Jones family from P.T. Barnum who turned state's evidence and closing down that drug faction, along with the Terminators and Frankie Estrada. The FEDs were able to link the two due to key evidence I seized in that case.

5. Taking down members of the Latin Kings who went after a fellow police officer's family, Officer Ernie Garcia. They tried to set his father's car on fire because he lived across the street from Marina Apartments which was a drug infested location. We came in and took down the whole thing.

6. One other, last year I collected so much toiletries, food and clothing for the homeless shelters in Bridgeport, I had to send the extra supplies to the New Haven homeless shelters. I also received donations and supplies for Prospect House to provide them with a computer so the residents could look for family, jobs, and submit application for work on line.
P.S. from Bailey who won't be far away:
I am still going to be collecting food for the pantries, do things for the homeless and collect toys for children in Bridgeport. I also am a member of the mentoring program started by Chief Joseph Gaudett for the new school.