If you're going to resonate as a candidate, showing development progress as an incumbent is a must. Mayor Joe Ganim provides a construction view glimpse of the Dockmaster Building rising along Steelpointe Harbor, the latest phase of the East Side redevelopment area that will include a marina and raw-bar restaurant opening onto the Harborwalk.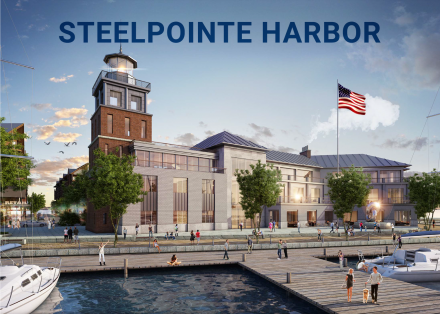 "Good stuff for Bridgeport, but good stuff for Connecticut," says Ganim into the camera, trying to bolster his Runyonesque run for governor against Democratic-endorsed Ned Lamont, the wealthy Greenwich entrepreneur. Ganim's campaign operation is hustling signatures to qualify for an August primary. If the campaign is successful in its labor-intensive quest it will be the first to do so for governor since establishment of Connecticut's direct primary process about 15 years ago that allows ballot access to gubernatorial candidates who secure signatures from two percent of the party electorate, in this case approximately 15,500 verified Democratic signatures. Retired corporate executive Guy Smith is also trying on the Democratic side, as well as several Republican candidates.
Ganim fell short of the 15 percent delegate support at the Democratic convention a few weeks ago to tap an automatic ballot spot so the signature route is the only other avenue to forge a primary. June 12 is the deadline to submit signatures. His campaign operation will file more than 20,000 signatures to various municipal registrar offices around the state, a cushion to account for invalidated signatures from individuals who may be unaffiliated or not on the voter registration lists.
If he qualifies for the ballot, money will be an issue for Ganim. The self-funding Lamont will outspend him heavily.
As for Steelpointe Harbor, the Dockmaster Building, expected to be completed this year, will be 48,000 square feet featuring the office of the marina on the first floor along with a raw-bar restaurant opening onto the Harborwalk, says Robert Christoph Jr., a principal with Bridgeport Landing Development that owns the project. The restaurant and 200-slip marina will open spring 2019. Boat shows and fishing tournaments will come alive along the waterfront.
Two new travel lifts on the site called Bridgeport Shipyard are capable of lifting most ships that ply Long Island Sound out of the water for storage, upgrades and inspections. The Bridgeport Shipyard house and maintain both commercial and recreational vessels.
"This will bring local jobs and serve as a good economic stimulus for Bridgeport making it a premier destination," says Christoph.
The first phase of the residential building, located behind the Dockmaster Building in the corridor bordered by Stratford Avenue, Pembroke and East Main Streets, is scheduled to break ground later this year with an 18-month construction timeline. The residential building is being designed with underground parking, retail at ground level and approximately 200 residential units above it.