Results, top four candidates including absentee ballots, Kelleher 2087, Moales 1929, Illingworth 1842, and Bagley 1368.
All three Democrats Hernan Illingworth, Jacqueline Kelleher and Ken Moales won seats on the Board of Education in Tuesday's special election that was ordered by the Connecticut Supreme Court after it overturned state control of city schools. The final spot reserved for minority-party representation shows Working Families Party candidate John Bagley, legendary city hoop star, defeating closest rival Republican Joe Borges.

In a citywide voter turnout of about five percent, Democrats Illingworth, Kelleher and Moales won most city precincts including Black Rock, the West Side, North End and East Side. Bagley ran well ahead of Borges to win the fourth open board spot. These results say more about the feeble influence of city Republicans than any organized opposition to state control of city schools that led to the special election. Once again Republicans lost an opportunity to gain a spot on the school board. In November voters will decide in a charter revision question if they want to continue with an elected school board or support Mayor Bill Finch's proposal for a mayoral-appointed body. The winning Democrats say the results validate the education progress that has taken place during their time as appointed members.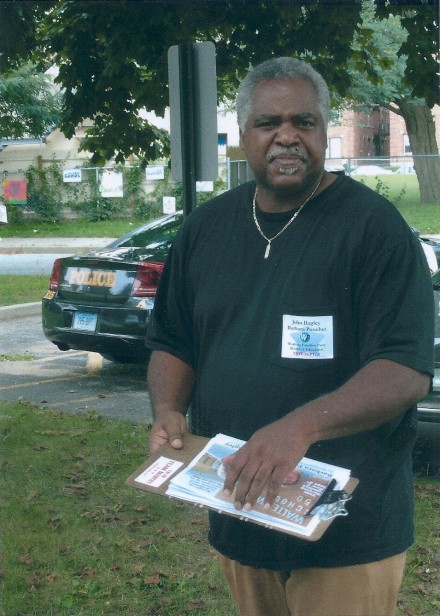 Bagley will join Maria Pereira and Sauda Baraka as members of the Working Families Party on the school board. Pereira and Baraka had voted in a bloc with Democrat Bobby Simmons prior to the elected board–with the bloc opposing–voting to dissolve itself in favor of state control of city schools in July of last year, a move that was overturned by the Connecticut Supreme Court that led to the special election. Assuming they all hold together this could set the stage for a 5-4 vote on many key school board issues.
Illingworth, Kelleher and Moales, all state-appointed board members, will join Democrats Bobby Simmons, Tom Mulligan and Leticia Colon on the board in addition to Pereira and Baraka. Bagley, the ex Harding High School star and NBA pro, makes the ninth member.
Democratic Town Chair Mario Testa's absentee ballot operation has also paid off with Democrats winning overwhelmingly.
Based on the results the Democrats achieved their goal of maintaining a majority on the BOE while the Working Families Party has picked up one more seat. Dems had hoped to elect Borges over Bagley in the belief the Republican would be easier to work with on the board. While four seats were available city electors could vote for up to three of the nine candidates with one position reserved for minority-party representation
A large question looms: what will Leticia Colon, also a member of the City Council, do? The City Charter appears to prohibit a member of the city's legislative body from sitting on another city board. Unless city legal advisers can craft an argument for Colon to keep both seats, she will have to resign from one. The City Charters calls for sitting members of the school board to fill a vacancy.
The new elected school board will be officially seated once voter results are certified by elections officials. On Wednesday (today) it is expected that officials from the Registrar and Town Clerk's Offices will review tally sheets, certify the numbers and send them to the Office of the Connecticut Secretary of the State.
The first regular meeting of the Bridgeport Board of Education will take place Monday, September 10 at 6:30 p.m. at the Aquaculture School, 60 St. Stephens Road near Captain's Cove Seaport.
Statement from Working Families Party:
The Working Families Party is proud to announce that John Bagley has won a seat on the Bridgeport Board of Education. He won one of the four seats up for election by finishing within the top four spots among a field of nine candidates.

He will join Sauda Baraka and Maria Pereira, Working Families Party members currently on the nine seat Bridgeport Board of Education.

"It's clear that parents, educators and voters in Bridgeport want a say in how their schools run," said Lindsay Farrell, executive director of the Connecticut Working Families Party. "They elected John because they know he will be a fierce advocate for every student in Bridgeport. While it is disappointing that Barbara Pouchet did not win a seat, John's election is a clear rejection of corporate control, and plans to hand their School Board over to bankers and CEOs."

"I'm honored that the parents and voters in Bridgeport have chosen me to help ensure all our students can succeed," said John Bagley. "Tonight was just the first step. Going forward I will work with Sauda, Maria, and the other board members to pursue success for all our public schools, instead of funneling dollars into private charter schools that can pick and choose the students they want. In order for students to succeed, we will give all children the support and resources they need by making sure special education programs are fully funded. And we'll work to incorporate more extracurricular programs into our schools."

"We'll get parents engaged in the schools by reaching out and organizing the community. And we'll create programs to help adults with reading, job training, and other skills so that the whole family is empowered and prepared to succeed. Parents know what their kids need, and that's why we'll always listen to parents."

The Working Families Party is an independent grassroots party that fights for the 99%. WFP evaluates the records of all the candidates and supports only those with a proven track record of standing up for working-class and middle-class families on issues like good jobs, affordable healthcare, fair taxes and quality schools.