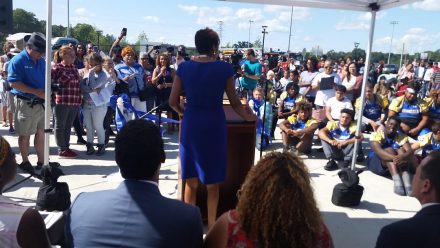 It's no picnic in the park running Bridgeport's public school system while juggling nine egos on the Board of Education so on one level a nearly three out of four rating evaluation by your bosses is pretty darn good, but then the give and take between Superintendent of Schools Aresta Johnson and board chair John Weldon shows it's not all milk and honey.
The school board's evaluation describes Johnson as a strong academic leader. In the area of board relations and communications she was graded low. This is the trapdoor for a school super: devotion to student achievement while negotiating the capricious board egos and factions. Johnson, a popular figure in her early tenure, had her say in public.
From Linda Conner Lambeck, CT Post:
"From the initial time of my appointment as superintendent in spring of 2017, I have made concerted effort to improve outcomes for all children," Johnson said, reading from prepared remarks. "I am asking for a level of fairness and respect. I did not see that over (the) 2017-18 (school year)."

The candid exchange–which qualified for executive session–was conducted in public at Johnson's request, as was the bulk of her late August evaluation process.

The session ended with three goals set for Johnson in the current school year: better her relationship with the board, increase parent engagement and focus more on bully prevention and record keeping. The board has faulted the district's low verified bullying tally.
Full story here.