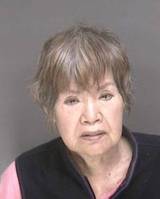 They don't call it the world's oldest profession for nothing. City police Wednesday night arrested three woman in a sting of an illegal massage parlor on Main Street, including a 75-year-old, according to police spokesman Bill Kaempffer.

Members of the police Tactical Narcotics Team conducted an undercover operation at the American Asian Modeling Studio at 3853 Main Street. Dressed in civilian clothes, officers entered the location at about 10 p.m. and spoke to a woman through a barred door. Police received a quoted price for both massage and sexual services, but were told to come back because the woman working that night was busy with another client, according to Kaempffer.
The officers returned and gained entry. Backup officers arrived and arrested three women.
Yongyul Kim, 75, and Jo Hall Kum, 53, were charged with promoting prostitution and for failing to have a state massage establishment license. (Go easy on the Kim and Kum jokes.)
Chuyoung Jang, 46, was charged with prostitution and with state licensing violations.
Their bonds were set at $2,500 each.