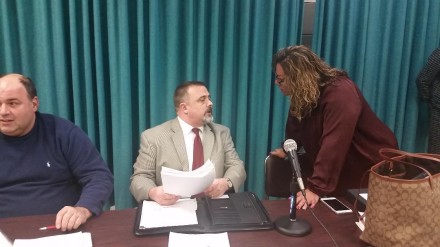 Republican John Weldon Monday night by a 5 to 3 vote was elected chairman of the Board of Education becoming the sixth leader in as many years. The organizational meeting at the Aquaculture School was chaired by Mayor Joe Ganim who appointed Weldon to the school board in November 2016 to fill a vacancy. Ben Walker received 3 votes.

Weldon was elected to a four-year term in November.
Republicans feature three members, Weldon, Chris Taylor and Joe Sokolovic who also ran on the Working Families Party line in November. Democrats: Dennis Bradley, Maria Pereira, Ben Walker, Sybil Allen, Jessica Martinez, Hernan Illingworth.
Bradley who arrived late did not attend the chair vote. Walker's votes came from himself, Pereira and Sokolovic.
Prior to the vote, the public speaking portion of the meeting was punctuated by stern warnings about interference by political leaders to influence school board votes and calls not to mess with the work of Superintendent of Schools Aresta Johnson.
Former City Council President Lisa Parziale, addressing the new board, declared Democratic Town Chair Mario Testa had caused "chaos and division" in the past.
Retired Superior Court Judge Carmen Lopez shared that she wasn't sure whether to offer "congratulations or condolences" to the new group of newcomers and veterans. One thing she was very clear about "Don't mess with the superintendent … support her."
There's been speculation about the new board parting ways with Johnson who joined the district as school chief about a year ago, an expensive proposition to buy out her contract, if that were the case.
Prior to nominating Weldon, Taylor asked if Weldon harbored any reason to proffer a change of school leadership. The low-key Weldon responded no. Speculation had centered on Johnson's attempt to replace the city-run Lighthouse after school and summer program with one developed in partnership with Yale University.
Johnson observed quietly as this all played out.
Weldon also promised not to engage in any boycotts of meetings as had been advanced when Bradley served as board chair, his failed play to force Pereira's resignation following board disputes.
City Councilman Pete Spain during the speaking portion presented a passionate appeal for Walker as chair, calling the music teacher and father a "renaissance man" of many qualities. Sokolovic nominated Walker for chair.
Pereira voiced opposition to Weldon declaring the school body needed a bridge builder such as Walker to bring disparate parties together.
Once Weldon was selected as chair, Ganim ceded the organizational meeting over to him.
Illingworth was named vice chair and Martinez secretary.