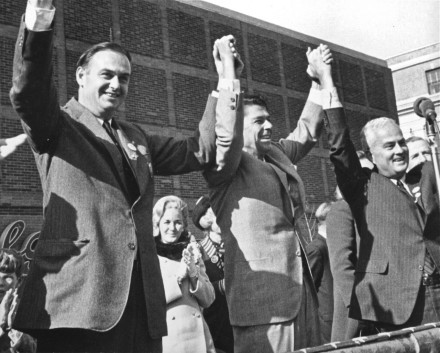 Where will Bridgeport end up in the potential realignment of Connecticut's 4th Congressional District? Stay put or join New Haven in the 3rd District? Republican operatives would love to carve the state's largest city into the 3rd to create a near GOP lock on the 4th district. Courts may decide the issue. Democrat Jim Himes represents the district with Republican candidates positioning for the GOP nomination.

The 4th, a melting pot of rich and poor, social progressives, unaffiliated voters and fiscal conservatives, is a swing district that enjoys loads of attention from national parties with millions of campaign cash pouring into the district. In addition to the state's largest city it includes Stamford and Norwalk, but it's also the bastion of the state's Republican base featuring the Fairfield County Gold Coast from Fairfield to Greenwich. Historically the district clamors for moderate GOP representation. Lowell Weicker (yeah, the big guy elected governor as an independent in 1990 after losing his Senate seat to Joe Lieberman) started the trend with his election in 1968, but wasted little time winning a promotion to the U.S. Senate in 1970 where he earned a reputation for liberal independence including taking on his own party (paging Richard Nixon). Weicker was replaced by Republican Stewart McKinney, another in the mold of independent-thinking pols, who died in office in 1987. A special election to replace McKinney was won by Christopher Shays who held the seat until Jim Himes knocked him off in the Barack tsunami of 2008, ending 40 years of GOP control of the district. Himes won just three of the 17 communities in the congressional district, but the Bridgeport blowout was enough to deliver his win. He won a close reelection in 2010 against Republican candidate Dan Debicella, again with Bridgeport leading the way, although Himes won several suburban towns outright such as Fairfield, Westport and Redding.
Barack is back on the ballot in 2012. Will he inspire young voters to the polls as he did in 2008? If not, a well-financed Republican can be in play for the seat. But which one? GOP candidates include:
Chris Meek meekforcongress.com
David Orner www.ornerforcongress.com
Steve Obsitnik www.obsitnik.com
With three full years representing the district Himes has shown mighty fundraising skills while trying to balance the wealth of Greenwich and Darien with the needs of his political base led by Bridgeport. This race is just one to watch among a stream in the 2012 cycle.