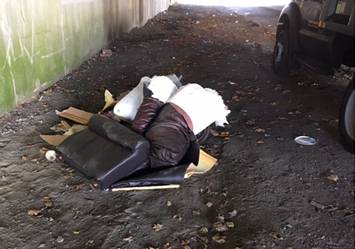 From city Communications Director Av Harris:
Bridgeport Police today are announcing they are continuing to crack down on illegal dumping in Bridgeport, seizing a truck used to illegally dump garbage recently. Police are also asking the public to help identify a suspect caught on camera dumping debris on November 29, 2016 at the corner of Alice and Sedgewick Streets. After receiving a tip from a city resident, Bridgeport police on November 22, 2016 seized a private pick-up truck used to illegally dump construction debris on Beardsley Street. State regulations permit law enforcement agencies to seize assets and property used to commit crimes, including illegal dumping. The truck was registered to Sam Coley of Bridgeport who was issued a fine for the infraction. Those caught unlawfully disposing of garbage and other material are subject to a $200 fine pursuant to city ordinance and can be charged with a misdemeanor.
At the same time, Bridgeport Police are asking the public for assistance identifying the individual in this video:

The man pictured in the video was caught on security cameras November 29, 2016 leaving debris out on the corner of Alice and Sedgewick Streets.

"This is our city and we all have an obligation to keep it clean," said Bridgeport Police Chief AJ Perez. "We have zero tolerance for anyone who thinks they can trash our city. If we catch people illegally dumping material, we can seize vehicles under state law and we will. Bridgeport has a very well-run transfer station that is easy to find and processes waste very conveniently. That is where debris should be dumped. Anybody who thinks they can dump on the cheap by just discarding materials on the side of the road in Bridgeport should know: illegal dumping will cost you!"

Bridgeport police are also reminding the public that they are offering a $200 reward for anyone who contributes evidence that leads to an arrest for illegal dumping. The city is providing the following numbers to report such evidence: 203-576-8023 or 203-576-7976 and evidence can come in many forms, including a picture taken on a mobile phone and sent via text message.