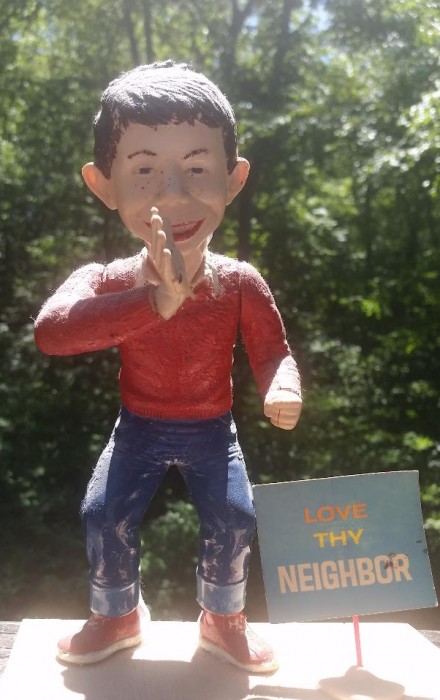 What candidate for governor excites you? For the most part OIB resident policy wonk Jeff Kohut is underwhelmed. We asked Kohut for his take on all the candidates. In classic Kohut-speak, he doesn't hold back. To paraphrase Mad Magazine mascot Alfred E. Neuman, the only time politicians tell the truth is when they call each other a liar. Grab a cup of joe and gander.
Even with the national distraction of the Trump Administration nuclear melt-down, as it rapidly approaches "critical mass" and presents the possibility of an American political Chernobyl, the gubernatorial side of the 2018 political season in Connecticut is starting to get a little interesting again as we approach the August 14 Primary Day.
Here we have a line-up of candidates who are training their bs heavy artillery on the Connecticut electorate, focusing mostly on the urban centers, knowing that the bs filters of the 'burbs leave the latter inured to most political bs and that they've already decided their D and R primary picks and probably have a pretty good idea of the primary outcome and how their vote will go in November. So as we speak, the bs bombs are hitting urban centers with increasing intensity, with all the candidates presenting "plans" (mostly bereft of specifics) to revitalize urban centers and resuscitate the moribund Connecticut economy, but with all the candidates promising property- and income-tax relief, downsizing and streamlining of Connecticut government, improving infrastructure, improving education in poor-performing urban areas, and, of course, growing and recruiting business and the state/local tax base (with few specifics on how to accomplish this).

On the Republican side

David Stemerman

David Stemerman (a good name to practice reciting in a stutterer's clinic) would build on Connecticut's extant manufacturing base by supporting workforce training in advanced manufacturing. An unoriginal, albeit essential idea. It would take money for increased training opportunities for prospective workers (and, indeed, Connecticut has an abundant, trainable labor pool) and would also take incentive money and political arm-twisting to get Connecticut companies to expand operations here. Where will the incentive money/leverage come from if there are also to be substantial tax cuts?!

Bob Stefanowski

Bob Stefanowski–the non-voting, party-switching, newly-minted Republican candidate–would apply the classical, supply-side, trickle-down economics of economist Doctor Arthur Laffer that has led to two US recessions and a worldwide depression since first applied by Ronald Reagan, by concentrating wealth in the hands of market manipulators and investment speculators, in non-productive contexts that invite the creation of inflationary speculative bubbles and the credit-based "false wealth" that has led to the decimation of the middle class, increase in poverty, and economically pernicious, gross income inequality that has come to characterize the US and global economy. Mainstream Connecticut isn't going to buy into this.

Steve Obsitnik

Steve Obsitnik–Navy veteran, intellectual, successful tech entrepreneur who would create a "high-tech ecosystem" in Connecticut to create high-tech jobs in the state. And he would do this by (fill in the blank with the standard mantra from the second paragraph above). No doubt about his intellectual capacity–given impressive academic and business accomplishments–but he tripped politically, coming out of the gate by allowing a conflict in election law to occur within his campaign. He also has a bad track record as a candidate, having run for and lost several attempts at elected office. This guy is sort of like Jimmy Carter–very smart, high-tech background, but politically inept and unlikely to be able to pull things together politically, in moving Connecticut government toward the kind of functionality that his job-creating, tax-cutting plans would require.

Mark Boughton

Mark Boughton–Danbury's popular, successful mayor (still on the mend with health issues) and endorsed Republican Party gubernatorial candidate, who would eliminate the state income tax (and refer to paragraph two above) bringing jobs and prosperity back to Connecticut. He doesn't say how he would address our budget deficits/pension liabilities, etc., in the context of his elimination of the income tax. No new ideas/specifics here.

Tim Herbst

Tim Herbst–former Trumbull first selectman with a tendency toward Trumpian bluster and false claims (especially of his tax-cutting, budget-balancing accomplishments in Trumbull, which are patently false). Essentially, Herbst would save Connecticut by making it Trumbull (God help Bridgeport and the other urban centers!), with his dissembling political tactics and budgetary sleight of hand. He has no specific plans regarding job creation or rebuilding the Connecticut tax base, other than tax cutting and "shaking"up Hartford." In Herbst, Connecticut has a mini Donald Trump who is very likely to "shake things up in Hartford" as he creates political discord and dysfunction throughout the state.

All things considered, the Republican race is really between Greenwich millionaire Stemerman and nice guy/steady guy Mark Boughton, whose promise of income tax elimination has probably mesmerized the electorate and will bring him the Republican spot on the November ballot–and, if no health issues present themselves in the interim, very possibly the governorship in November. His background as the long-time, well-known successful mayor of urban-/suburban-hybrid Danbury, will give him one up on the other candidates. But in any event, he will have a rough time between now and the general election, with two, self-financed, super-wealthy Greenwich tycoons (and Timmy Herbst) nipping at his heels. But a lot can happen between now and November 6–for instance, a real plan(s) for Bridgeport and the other urban centers (that could also appeal to the suburbs) by one of the candidates (a surprise, independent run by a candidate with such a plan?). [Forget the independent candidacy of the Wizard of Oz (Griebel) and the Tin Man Monte with its fantasy, comprehensive plan–devoid of specifics–to save Connecticut. Not going anywhere. Already lost in the shuffle.]

And saving the best stuff for last; the Democratic side:

Joe Ganim.

Joe Ganim–redeemed, resurrected, multi-term, convicted felon mayor, running on a plan of social redemption consistent with the revitalization of the urban centers of the state, such that the utilization of their pre-existing infrastructure and critical mass of social/labor capital could be used to create a new, statewide, economic vitality. Joe's plan also contains the standard plan sketch in regard to "lowering taxes," "improving government efficiency," "addressing the budget deficit and long-term debt liabilities," "improving infrastructure," etc. And in terms of Bridgeport, he would pursue the location of a large casino in Bridgeport as the linchpin to secure a planned, developing, large-scale, arts-and-entertainment, tax base and jobs-creating sector in the Bridgeport economy. But the casino will be opposed by the powerful Stamford-Greenwich/Gold Coast Oligarchy that seeks to retain control of the Bridgeport/Bridgeport region workforce/affordable labor and the ability of this commuting workforce to have unimpeded access to the regional transportation infrastructure–a situation for which a Bridgeport casino would become problematic in terms of workforce availability and its daily commute. So far, Joe's statewide plan has been very short on specifics, and indeed, besides the creation of a significant arts-and-entertainment sector, there is little suggested in his plan to create the bulk of the tens of thousands of living wage, Bridgeport jobs needed to create and sustain the functionality of Bridgeport households and reconstruct a Bridgeport tax base capable of creating and maintaining excellent schools and necessary municipal services. Joe's current plan and gubernatorial efforts are in dire need of a real, statewide plan with specifics, as well as money and suburban sympathy (Sympathy from the Devil?!). Joe's single-minded focus, amazing work ethic and excellent political skills allowed his candidacy to this point, but will not take him through the rigged Democratic Central Committee primary election to a primary victory over Party-anointed, self-financing, Greenwich tycoon Ned Lamont.

Ned Lamont

Ned Lamont–veteran, failed, multi-candidate, Greenwich-millionaire, who usually likes to run for US Senate, is promising the standard fare for the state in terms of jobs, lower taxes, government efficiency, infrastructure improvements, education excellence, etc. But like the other candidates, he doesn't have a plan to pay for the basic needs of the state in the face of increasing budget deficits, much less a way to pay for remedial attention to neglected areas (especially in terms of education and infrastructure). A glaring example of an application of his "non plan" is his promise to Bridgeport for full PILOTS and ECS reimbursement. A truly empty promise in light of the state's worsening fiscal dilemma. It might be interpreted as a sign of desperation in his campaign. Just where would this money come from at a time when Connecticut's economy is still nosediving toward bankruptcy even as our budget deficits swell along with our long-term debt liabilities?! Ned has no real plan to grow the economy and create jobs in Connecticut–except for the standard mantra contained in the platforms of all of the other candidates. Ned would refer to his very tentative, prohibitively expensive plan to bring a couple of hundred high-tech jobs to Hartford (from India!) as evidence of his economic development prowess. Ned, like the other candidates, has no plan with specifics geared toward creating the needed economic growth necessary for the short-and long-term sustainability of the state's essential services, infrastructure and social development. But the most dubious aspects of Ned's candidacy are his Gold Coast roots and US Senate-seeking history. Ned's Gold Coast roots and political DNA point to, as David Stemerman asserted, "a third term for Dan Malloy" if Ned is elected. This would imply the continued economic-development primacy of Stamford/the Gold Coast, at the continued expense of the rest of the state–which guarantees our continued race to the economic bottom. Nonetheless, as the anointed, moneyed, Greenwich/Gold Coast Democratic candidate, running against an underfunded candidate with liabilities who is not considered as an attractive face for the Democratic Party by the Democratic Establishment in Connecticut, Ned will surely be the Democratic candidate in November.

So at this time, barring the unlikely emergence of a daring, independent candidate with a real plan, competent organization, and $1 million (or so) for the final leg of the gubernatorial race, we're probably going to see a lackluster contest between Polo Country Ned Lamont and Herbst's Biting My Ankles(!) Mark Boughton. If Boughton wins, I-84 gets widened and Route 7 gets finished. If Lamont wins, Susan Bysiewicz becomes governor in 2020 when Ned tries to grab Dick Blumenthal's US Senate seat.

*Note that none of the jobs-creating candidates have identified any specific, new industries and companies–not presently represented in Connecticut–that would be targeted for expansion of the economy, and that none of the candidates has created a specific vision with timetable, and conducted a related, comprehensive study on the specific needs related to the fulfillment of this vision (e.g. jobs numbers) and costs of creating the necessary infrastructure/services (housing, transportation, educational facilities, healthcare) needed to fulfill this vision. That is to say, none of the candidates has presented a vision of what Connecticut should/might be, or how it might get there, in terms of ways, means and costs. What kind of cities and towns? How much open space? Farmland? Population? Lifestyle? Numbers and kinds of jobs? Transportation modes/improvements? Should we be like Oregon? New York? Something really special? A new, super-prosperous society? AND NONE OF THE CANDIDATES HAS ACKNOWLEDGED, MUCH LESS PRESENTED A PLAN FOR THE AMELIORATION OF CONNECTICUT'S BIGGEST ECONOMIC PROBLEM–OUR ECONOMY-DESTROYING, BUSINESS-REPELLENT ENERGY/UTILITY COSTS, WHICH ARE THE HIGHEST IN THE COUNTRY, NEXT TO THE ISOLATED ISLAND OF HAWAII, THE LATTER AT LEAST HAVING A 30-YEAR PLAN FOR LARGELY GRID-FREE, GREEN, ENERGY INDEPENDENCE.

In any event, look for I-84 and Route 7 improvements in 2019.