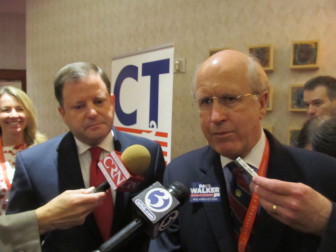 For Republican gubernatorial candidate John McKinney to qualify for the $1.3 million public jackpot against party-endorsed Tom Foley, it looks more and more he must merge his money with running mate David Walker. Under Connecticut's public financing rules Walker, Bridgeport resident and former U.S. Comptroller General, can pool his dough with McKinney.

More on this from Mark Pazniokas, CT Mirror:
The Republican gubernatorial campaign of John P. McKinney is likely to jointly apply next week for public financing with his running mate, David M. Walker, an acknowledgement of McKinney's difficulty in raising the necessary $250,000 in qualifying contributions.

The joint application would mean forgoing a separate $406,275 public grant for Walker, but it provides a quicker path to a gubernatorial grant of $1,354,250 that McKinney and Walker could share for their coordinated GOP primary campaigns.

McKinney and Walker agreed in May to continue to separately fundraise in hopes of each qualifying for grants, setting an internal deadline for deciding if they would pool their qualifying contributions make a joint application.
Full story.