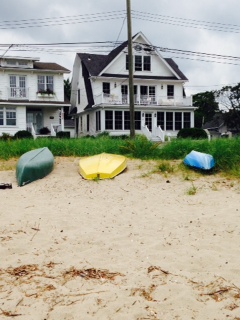 UPDATE from canoe owner: We have Only In Bridgeport moments, but then we have Only In Black Rock moments. Black Rock is a cool waterfront hamlet loaded with walkers, runners, bikers, bathers and kayakers. Kayaks and canoes piling up on the small spit of beach on Seabright Avenue is one of the many topics discussed inside City Councilman Enrique Torres' Harborview Market. In fact, Torres says he has stored the kayaks at his market for folks to pick them up, and has even been accused of stealing them.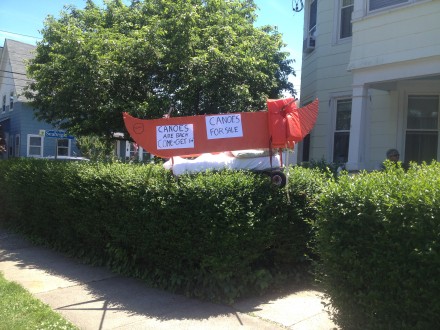 "I've been begging people to pick up the kayaks from the beach but not store them there," says Torres, a city councilor who represents the district. "I've been accused of stealing a canoe. I have my own canoe. Some lady saw a red canoe in my yard and thought it was hers."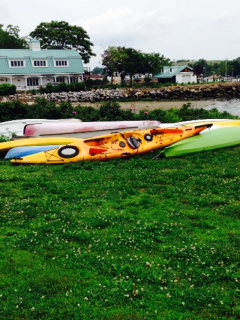 "People feel they have a right to leave them there because they left them there so long," says Torres.
The kayaks also pile up on the beach, says Torres, because some neighborhood residents have no place to store them, and others leave them there when they move out of the area. Last year the city stored the unclaimed kayaks, but then some complained their kayaks were taken.
Torres says he prevailed upon the Park Department to return the stored kayaks, but now says they might have to store them again to unclutter the beach.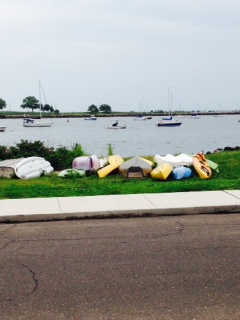 In fact, Torres says he's storing an aluminum canoe at the market.
"I would love for someone to pick it up. It's a nice canoe. But I don't want it."
Canoe owner Bill Richard wades in:
I am the owner of the Bed race bed designed to look like a canoe that was perched upon our hedges after the race to be seen by all in the parade. If Torres wanted to do the right thing he could have followed whatever protocol the city uses to deal with abandoned property such as cars. Posting the fact he was going to sell the canoes on his Facebook pages does not constitute official public notification. My orange/red canoe was on the beach on Sunday May 18th and was gone by Wednesday May 21. During that three-day period Torres announced they were abandoned and he would be selling them. Coincidence that mine disappeared during this time? I doubt it. I was there last fall on a warm beautiful day when the Parks dept. was loading them into trucks.

I could not gather my kayak and canoe at that time as I was headed to an important medical appointment. I was told I could call the city to arrange a time to come pick them up. I called the city seven times over the next six months. The first time they took my name and said they would call me when they arranged a day for pick up. I was told the same thing six more times. Then they reappear on the beach at the end of April. Both of mine were returned.

I was lead to believe by my conversations with the parks dept they picked them up for the off season. I had no reason to believe there was any problem with them on the beach in season. I had an unpleasant conversation with Torres upon the disappearance of my canoe. First he suggested I should credit him with his effort to have the city bring them back. Then 5 seconds later he says they were there for a year and a half and were abandoned. I said they have not even been on the beach for a month. I asked how he differentiated between the canoes and kayaks he had collected and brought to his Harborview market parking lot he deemed abandoned for auction from the ones still on the beach. He said the ones on the beach are abandoned as well. I said okay then I will go get one from the beach which will replace mine that was missing. He said that would be stealing!

How would that be any different from what he did? According to Council woman Brannelly, Torres was told to stop selling property that did not belong to him. I have not read of any notification in the CT Post or on Torres' Facebook page (the official way Bpt communicates with its citizens according to him for this issue anyhow) telling people he was wrong and if they were led to believe they were abandoned and acquired one from him or directly off the beach, they are in possession of stolen property and they should return it. My sister may be the person Torres says accused him of stealing ours and leaving it next to his house. That never happened. My sister and I drove by his house, saw a canoe that looked exactly like ours. I called the mayor's office and told them this along with the rest of my story. I then spoke to people who vouched for the fact he has owned an orange fiberglass canoe for years. No accusation of stealing was ever made by my sister.

The statements I made concerning the canoe on the side of his house were clearly stated by saying "there is a canoe next to his house that looks like mine, perhaps he moved some of the canoes he was auctioning off to his house as his Harborview market parking lot was loaded with them." I am still waiting to hear back from the city. I spoke to Brannelly for 20 minutes on Saturday 5/24. She told me Torres had no right to do this and there were two problems here. The city was supposed to afford me the opportunity to go collect my boats and Torres had no right to designate them as abandoned and sell them or spread the word they were abandoned which may have prompted some people to go to the beach and help themselves. Brannelly said she would get back to me. She has not. I called her again after Black Rock day and left a follow-up message. If you have any more information on this I would love to hear it.

Due to the circumstance surrounding the disappearance of my canoe I feel as if the city is responsible. If it had gone missing under ordinary circumstances I would chalk it up to bad luck, the risk I took to leave it there, but not with all that has happened.

Thanks,
Bill Richard