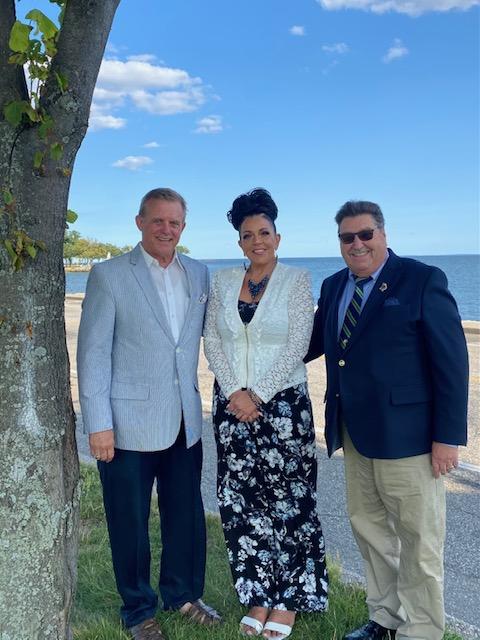 This could be like a wild west show except it's in Bridgeport, something of a shootout for its politics.
Bridgeport is a city of political comebacks: Mayor Joe Ganim and City Councilman Ernie Newton on the Democratic side. Now former state high sheriff and state marshal Charlie Valentino is trying to become the comeback kid as a city sheriff challenging the Republican establishment.
A slate of Valentino, Ethan Book and Jacquelynn Perry are hustling petition signatures to qualify for a September primary against incumbents former party chair Mike Garrett, Mike Moretti and three-time mayoral candidate Rick Torres.
City sheriffs serve legal papers. Democrats and Republicans are guaranteed three spots.
About five years ago Valentino was sentenced to a year in the state joint for scheming thousands of dollars from people whose cars were seized from delinquent taxpayers
"There was one woman who owed $500 in taxes on her Mercedes, $500, and it was booted and towed and her car was sold, and the only ones who got any money out of it were you and the towing company," the judge said at sentencing.
Valentino showed contrition, "I know I did wrong and I have to live with that for the rest of my life."
A second chance message will not be easy against the GOP entrenched. High noon or blue moon?
Valentino was the last of the elected (Fairfield County) High Sheriffs eliminated by voters 20 years ago, rife with corruption, for state marshal service.
Valentino is teaming up with hard-core Republican policy wonk Ethan Book whose enmity for Garrett runs deep. The feeling is mutual. The party-endorsed slate was selected last week.
Statement from Book:
After the meeting, my initial thought was to continue my candidacy solo, seeking signatures to petition for a primary. But then emerged Charlie Valentino and Jacquelynn Perry also planning to seek signatures to force a primary for the three Republican Sheriff positions. All three of us want to effect some changes in the RTC political structure, that to allow for more diversity in the local party organization, that to attract more interested participants and to serve better the interests of our community. We realized that with the three of us taking up two lines on the Primary Ballot, there would be more chances for confusion and splitting up the votes of us as establishment challenge candidates. So, we agreed to form a slate which would appear as one line on the Primary Ballot. Small procedural steps can make a big difference in the ultimate outcome.
Last week Republicans endorsed John Weldon, the school board chair, Peter Perrillo and Mary Gaits for Board of Education. Three of the nine BOE seats must be from a minority party.
Incumbent Joe Sokolovic, a GOP outsider, is going at it alone to petition for a primary.